Sony's action-sci-fi records a week-high location average of $6,872 (£4,269) to topple Rango from the number one slot.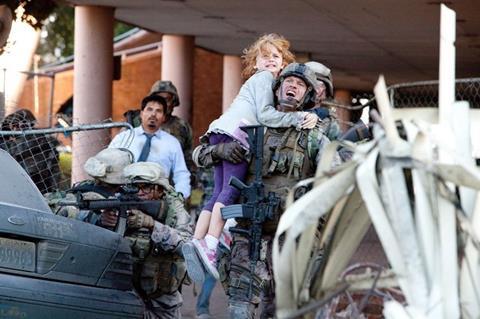 Battle: Los Angeles took $2.9m (£1.8m) and out-gunned the similarly themed Skyline, which opened on $2m (£1.2m) last November.
Last week's champion Rango dropped to second but only fell 6%, the strongest holdover performance of the top 20. Paramount's animated Western corralled $2.5m (£1.5m) at a decent screen average of $5,263 (£3,269) and has amassed $5.8m (£3.6m) so far.
Optimum's Unknown also showed decent resilience after taking a further $1.7m (£1m) to stand at $5.1m (£3.2m). The action-thriller is following a similar path to previous Liam Neeson thriller Taken which went on to gross $10.3m (£6.4m) and could challenge Fahrenheit 9/11's $10.6m (£6.5m) record as Optimum's biggest UK grosser.
The Farrelly Brothers suffered an inauspicious return to the UK box office as Warner Bros' Hall Pass only managed $1.5m (£900,936) from its 407 locations to chart fifth. Despite being the second widest opening for the directing duo, it fell some way short of their best ever opening belonging to the $3.4m (£2.1m) debut of There's Something About Mary.
Momentum's The King's Speech started to show signs of slowing down in its tenth week as it recorded its first sub-$1.6m (£1m) weekend after grossing $1.1m (£689,809). The Oscar-winner is now 25th in the all-time UK box office chart thanks to its $69.6m (£43.3m) bounty.
There were three other new entries in this week's top 20 with the best coming from eOne's Fair Game, starring Naomi Watts and Sean Penn, which garnered an unspectacular $489,854 (£304,297) from 256 locations to chart ninth.
Paramount's The Resident fared worse, creeping into the charts in 16th after a sub-par opening of $223,902 (£139,088) at a low average of $1,408 (£875) and even though Soda Pictures' Norwegian Wood opened two spots below, its scale of performance was much more impressive.
The $148,654 (£92,344) debut from just 33 locations for Anh Hung Tran's romantic drama resulted in Soda Pictures' best ever UK opening, beating the $85,592 (£52,874) taken by Coco Chanel & Igor Stravinsky last August.
Next week sees saturation releases for Paramount's Chalet Girl and Entertainment's The Lincoln Lawyer. Revolver's Anuvahood, Optimum's Submarine and Warner Bros.' You Will Meet A Tall Dark Stranger all receive wide releases.