Xin Cheng Jiang's sci-fi love story wins at Beijing Film Market.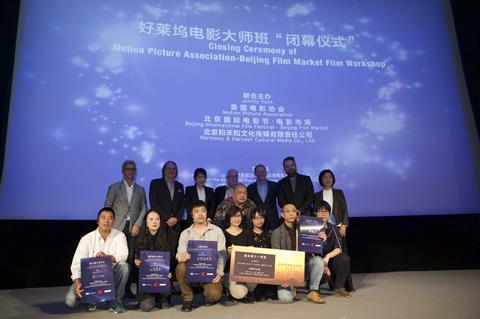 Sci-fi love story The Gate, a film about a tour guide who finds himself in a virtual gaming world, has won the MPA Grand Prize in Beijing. The film's writer/director, Xin Cheng Jiang, is known as an influential commercial TV director.
The award was presented at the Motion Picture Association (MPA) - Beijing Film Market (BFM) Film Workshop, held during the Beijing International Film Festival (BIFF).
The prize includes sending Xin Cheng Jiang on "a week long film immersion course in Los Angeles".
Mike Ellis, president and MD for the MPA Asia Pacific, also awarded a President's Special Recognition Prize to director Yang Jin for the project Instant Love - a comedic love story set in Tokyo about a Chinese man who will do anything to win the heart of a Japanese girl.
The prize will see Yang Jin attend the Asia Pacific Screen Awards ceremony in late November in Brisbane Australia as the special guest of Ellis.
The MPA-BFM Film Workshop, this year themed "Vision", opened with keynote speeches from Zhao Zhiyong, acting secretary general of BIFF; Miao Xiaotian, president of China Film Co­Production Corporation; and Mike Ellis.
Their remarks were followed by a panel discussion featuring André Morgan (producer Perhaps Love), David Lee (founder/CEO, Leeding Media), Pauline Chan (dir/pro 33 Postcards), Ye Ning (vp, Wanda Cultural Group), and Huang Qunfei (vp, Huaxia Distribution).
Moderated by Liz Shackleton, Asia Bureau Chief of Screen International, the forum took a health check of the Chinese film industry and asked whether the business was able to cope and put in place the required infrastructure during a dramatic period of growth.

A second panel featured Timon Birkhofer (co-founder/producer, Father&Sun), Bennett Pozil (evp, East West Bank), Mike Ellis, Eva Jin (dir/pro/scriptwriter, One Night Surprise & Crazy New Year's Eve) and Shao Yiding (chairman/CEO, Beijing Union Voole Technology Co Ltd).
The forum explored how the Internet has influenced the way films are financed, produced, marketed and distributed, and how audiences will play a role in the financing and marketing of films in future.