Dir : David Scheinmann. UK. 2013. 96mins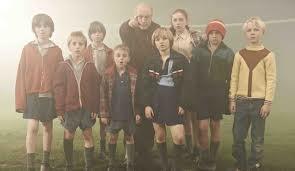 A solidly told, skillfully acted and engagingly shot tale inspired by actual events, Believe is a sports-centered movie one needn't care about sports to enjoy. As proudly manipulative underdog tales go, it's a sprightly one: In Manchester in 1984, legendary football manager Sir Matt Busby coaches a ragtag bunch of 12-and-under working class soccer players who think he's just some random old guy.
Believe is a modest but effective piece of mainstream entertainment that's crowd-pleasing in the best possible way.
If audience response and word-of-mouth at the 24th Dinard Festival of British Cinema are any indication, this is a family-friendly film with a bright future.
In the lively opening credits sequence, director and co-screenwriter David Scheinmann swiftly and enjoyably establishes that young Georgie (Jack Smith), who is being chased through streets and stores by two angry older men, is very good around a soccer ball - or indeed any faintly round item that can be jostled with one's foot.
An onscreen title introduces the fact that three hours earlier Georgie was watching a videotape about his hero Pelé while elsewhere in town Matt Busby (Brian Cox in a wonderfullyunderstated performance) was getting ready to attend a funeral with his loving wife.
The telly in the Busby household conveniently expounds on how Busby took over the Manchester United football club in 1945 and built it into a winning team only to have tragedy strike in the 1958 Munich plane crash that killed the players. Matt has wistful personal flashbacks to the bad weather that should have grounded the flight, to the young and talented lads who perished and to his own remarkable survival with wreckage scattered all around him in the snow, still buckled into his seat.
Such flashbacks could backfire but miraculously, they don't. Matt has been asking himself for 25 years why his life was spared. When fleet and fearless Georgie steals his wallet - not because he's the criminal type but because he needs the £21 registration fee to sign up with his unruly mates for the Manchester Junior Football Cup competition - Matt is not only led on a merry chase but he sees (in slow motion, yet) Georgie's considerable raw talent with a ball.
Matt, who will be 75 in a few weeks, could turn Georgie over to the police, but instead makes a deal to coach the fledgling team of under-12 players who, needless to say, haven't the slightest idea who the older man is.
Georgie lives with his mum, Erica (Natascha McElhone). Dad is only 'in the picture' in a framed portrait and his absence is sorely felt. Erica wants what's best for her only child and doesn't really grasp how much soccer means to her boy or just how gifted a footballer he is.
Georgie is up for a scholarship to Lancashire Grammar School, a posh establishment required to educate the occasional"lower income bracket" lad ("You mean working class?" asks his mum). If Georgie passes the entrance exam, he'll be on his way. Haughty and fastidious Doctor Farquar (Toby Stephens, a hoot), who lives with HIS mum, tutors Georgie and intones "Brass is class" every chance he gets in order to trumpet his fetishistic love for the school's marching band and its repertoire.
As in Chariots Of Fire where religious faith threatens to interfere with Olympic triumph, Georgie will have to choose between a first class education and his devotion to the game that Farquar condescendingly dismisses as "for those too feeble for ruggers."
It's a maxim of effective screenwriting to put your characters through hell and this Believe does, with plentiful obstacles to be overcome and nicely sustained suspense straight through a nail-biting finale laced with unexpected humour in the form of creative subterfuge from an unlikely ally.
The young man who plays Georgie is a real find as the spirited working class kid with talent to burn. (There seem to be an impressive number of young boys in English-language European films at the moment — the two leads in The Selfish Giant and the cute but tough kid who plays T. S. Spivet for Jean-Pierre Jeunet come to mind). Cox exudes the necessary stolid, quiet authority as "the greatest manager of all time" and Philip Jackson is great fun as Matt's gambling sidekick, Bob.
We learn in the closing credits what the young players — all well cast for distinct appealing faces and expressive body language — are up to in real life.
This reviewer (a Yank living in France) had never heard of Sir Matt Busby and couldn't have told you more about Manchester United than that it's the name of an apparently famous soccer team. That one needn't know more than that speaks well for the accesible screenplay and the film's prospects for travel. Using nearly every trick in the book to keep the smiling-through-tears combo going, Believe is a modest but effective piece of mainstream entertainment that's crowd-pleasing in the best possible way.
Production companies: Trinity, Bill and Ben Productions, Wachafilm
International sales: Intandem Films, www.intenademfilms.com
Producers: Manuela Noble, Justin Peyton, Ben Timlett
Screenplay: Carmelo Pennisi, Massimiliano Durante, David Scheinmann
Cinematography: Gary Shaw
Editor: Julian Rodd
Production designer: Catrin Meredydd
Music: Christian Henson
Website: http://believe-movie.com/
Main cast: Brian Cox, Natascha McElhone, Jack Smith, Anne Reid, Philip Jackson, Kate Ashfield, Toby Stephens