EXCLUSIVE: Mark Lamprell's sequel to A Few Best Men is being introduced at EFM.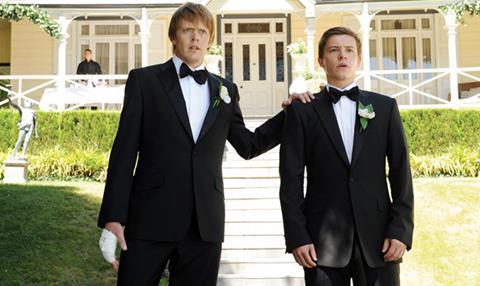 Arclight Films is showing first footage to Berlin buyers on A Few Less Men, the comedy sequel to its hit A Few Best Men [pictured].
Executive producer Gary Hamilton and his team have already struck deals in Australia and New Zealand (StudioCanal), Italy (Lucky Red), pan-Eastern Europe (Modus Vivendi), pan-Middle East (Italia Films), Peru, Bolivia, Ecuador and Columbia (Eastwood Holdings), and Vietnam (Galaxy).
Producers Laurence Malkin, Tania Chambers, Share Stallings, and Gorean Films Limited produce the story based on a screenplay by Dean Craig about two friends who must transport their friend's coffin to London after they are stranded in the Australian bush.
Mark Lamprell directed A Few Less Men and Xavier Samuel, Kris Marshall, and Kevin Bishop reprise their roles.
Arclight Films' EFM sales slate includes psychedelic thriller Happy Birthday featuring an appearance by Aerosmith frontman Steve Tyler, and 3-D horror Nest starring Li Bingbing, which has begun production at Village Roadshow Studios on the Gold Coast, Australia.