Berlin's Panorama lineup also includes new films from US, China and Brazil.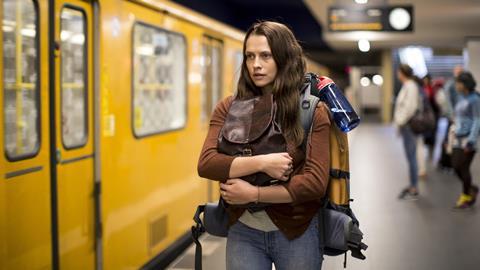 Berlin's Panorama strand is now complete following the addition of 24 additional titles.
A total of 51 works from 43 countries have been chosen for screening in the section, including 21 in Panorama Dokumente and 29 feature films in the main programme and Panorama Special. 36 of these films will be getting their world premieres at the Berlinale.
The German production Tiger Girl by Jakob Lass will open this year's edition of Panorama Special at Berlin's Zoo Palast cinema, along with the previously announced Brazilian production Vazante.
Among newly confirmed films are UK Sundance title God's Own Country, Luca Guadagnino's Call Me By Your Name, Cate Shortland's Berlin Syndrome, feminist fairy tale The Misandrists by Berlinale regular Bruce LaBruce, Erik Poppe's The King's Choice and Belgian-French-Lebanese co-production Insyriated which stars Hiam Abbass as a woman trapped in an apartment during war.
More to come…
Panorama main programme and Panorama Special
1945 (Hungary)
Dir. Ferenc Török
With Péter Rudolf, Bence Tasnádi, Tamás Szabó Kimmel, Dóra Sztarenki, Eszter Nagy-Kálózy
European premiere
Berlin Syndrome (Australia)
Dir. Cate Shortland
With Teresa Palmer, Max Riemelt
European premiere
Bing Lang Xue (The Taste Of Betel Nut) (Hong Kong, China)
Dir. Hu Jia
With Zhao Bing Rui, Yue Ye, Shen Shi Yu
World premiere
Call Me By Your Name (Italy / France)
Dir. Luca Guadagnino
With Armie Hammer, Timothée Chalamet, Michael Stuhlbarg, Amira Casar, Esther Garrel, Victoire Du Bois
European premiere
Ciao Ciao (France / People's Republic of China)
Dir. Song Chuan
With Liang Xueqin, Zhang Yu
World premiere
Como Nossos Pais (Just Like Our Parents) (Brazil)
Dir. Laís Bodanzky
With Maria Ribeiro, Clarisse Abujamra, Paulo Vilhena, Felipe Rocha, Jorge Mautner, Herson Capri, Sophia Valverde, Annalara Prates
World premiere
Discreet (USA)
Dir. Travis Mathews
With Jonny Mars, Atsuko Okatsuko, Joy Cunningham, Bob Swaffar
World premiere
Fluidø (Germany)
Dir. Shu Lea Cheang
World premiere
Fra balkongen (From The Balcony) - Norway
Dir. Ole Giaever
World premiere
Ghost in the Mountains (People's Republic of China)
Dir. Yang Heng
With Tang Shenggang, Liang Yu, Shang Meitong, Xiang Peng, Zhang Yun
World premiere
God's Own Country (United Kingdom)
Dir. Francis Lee
With Josh O'Connor, Alec Secăreanu, Gemma Jones, Ian Hart
European premiere
Headbang Lullaby (Morocco / France / Qatar / Lebanon)
Dir. Hicham Lasri
With Aziz Hattab, Latefa Ahrrare, Zoubir Abou el Fadl, El Jirari Benaissa, Salma Eddlimi, Adil Abatorab
World premiere
Hostages (Russian Federation / Georgia / Poland)
Dir. Rezo Gigineishvili
With Merab Ninidze, Darejan Kharshiladze, Tina Dalakishvili, Irakli Kvirikadze
World premiere
Insyriated (Belgium / France / Lebanon)
Dir. Philippe Van Leeuw
With Hiam Abbass, Diamand Abou Abboud, Juliette Navis, Mohsen Abbas, Moustapha Al Kar
World premiere
Karera Ga Honki De Amu Toki Wa (Close-Knit) (Japan)
Dir. Naoko Ogigami
With Toma Ikuta, Rinka Kakihara, Kenta Kiritani
World premiere
Kaygı (Inflame) (Turkey)
Dir. Ceylan Özgün Özçelik
With Algı Eke, Özgür Çevik
World premiere– Debut film
Kongens Nei (The King's Choice) (Norway / Sweden / Denmark / Ireland)
Dir. Erik Poppe
With Jesper Christensen, Anders Baasmo Christiansen, Karl Markovics, Tuva Novotny, Katharina Schüttler, Juliane Köhler
European premiere
The Misandrists (Germany)
Dir. Bruce LaBruce
With Susanne Sachsse, Kembra Pfahler
World premiere
One Thousand Ropes (New Zealand)
Dir. Tusi Tamasese
With Uelese Petaia, Frankie Adams, Væle Sima Urale, Ene Petaia, Beulah Koale, Anapela Polataivao
World premiere
Pieles (Skins) (Spain)
Dir. Eduardo Casanova
with Ana Polvorosa, Candela Peña, Carmen Machi, Macarena Gómez, Secun de la Rosa, Jon Kortajarena, Antonio Duran "Morris", Eloi Costa
World premiere - Debut film
Rekvijem za gospodju J.(Requiem for Mrs. J.) (Serbia / Bulgaria / Macedonia / Russian Federation / France)
Dir. Bojan Vuletić
With Mirjana Karanović, Jovana Gavrilović, Danica Nedeljković, Vučić Perović
World premiere
Tiger Girl (Germany)
Dir. Jakob Lass
With Ella Rumpf, Maria Dragus
World premiere
Vaya (South Africa)
Dir. Akin Omotoso
With Mncedisi Shabangu, Zimkhitha Nyoka, Nomonde Mbusi, Sihle Xaba, Warren Masemola, Zimkhitha Nyoka, Nomonde Mbusi, Azwile Chamane
European premiere
When the Day Had no Name (Macedonia / Belgium / Slovenia)
Dir. Teona Mitevska
With Leon Ristov, Hanis Bagashov, Dragan Mishevski, Stefan Kitanovic, Igorco Postolov, Ivan Vrtev Soptrajanov
World premiere
Supporting Film
Vênus - Filó A Fadinha Lésbica (Venus - Filly The Lesbian Little Fairy) (Brazil)
Dir. Sávio Leite
Already Announced Titles:
Centaur (Kyrgyzstan / France / Germany / The Netherlands) Dir. Aktan Arym Kubat
Honeygiver Among the Dogs (Bhutan) Dir. Dechen Roder
Pendular (Brazil / Argentinia / France) Dir. Julia Murat
The Wound (South Africa / Germany / The Netherlands / France) Dir. John Trengove
Vazante (Brazil / Portuga) Dir. Daniela Thomas