Golden Bear winner Gianfranco Rosi among those calling for "awareness" of migrant tragedies.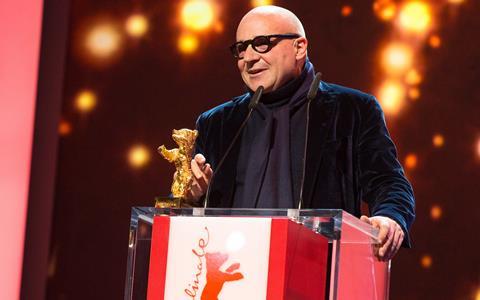 The awards ceremony of the 66th Berlin Film Festival was a typically glamorous occasion, with Hollywood star and international jury head Meryl Streep on stage to help present the coveted Golden and Silver Bears.
But it was the ongoing refugee crisis in Europe, claiming countless lives in perilous sea crossings, that dominated the winner's speeches – and the winning film.
The Golden Bear was won by Fire At Sea, a documentary about life on the Mediterranean island of Lampedusa where thousands of asylum seekers from Africa and the Middle East have landed on their arduous journey to Europe.
Accepting the award, Italian director Gianfranco Rosi said: "At this moment, my deeper thoughts go to all the people who never arrived at Lampedusa on these journeys of hope. I want to dedicate this award to the people of Lampedusa."
Joined on stage by Pietro Bartolo, known as the island's "medic to the migrants", Rosi said: "Once I asked Pietro Bartolo what made Lampedusa such a generous place and he told me Lampedusa is a place of fisherman, and fisherman always accept anything that comes from the sea. Maybe this is a lesson we should learn, to accept anything that comes from the sea."
The director added: "For the first time, Europe is somehow considering making certain policies and I'm not very happy with what I see. I hope this film will bring some awareness that it's not acceptable that people die crossing the sea to escape from tragedies."
Streep, who considered 18 Competition films with the jury, said of Fire At Sea: "In a year of thrillingly diverse films, the jury was swept away by the compassionate outrage of one in particular.
"It's a daring hybrid of captured footage and deliberate storytelling that allows us to consider what documentary can do. It demands its place in front of our eyes, compels our engagement and action. It is urgent, imaginative and necessary filmmaking."
Fire At Sea also impressed critics, topping Screen's Jury Grid, while Screen's review described the film as "shocking but also intensely human".
Shorts raise refugee concerns
Earlier in the ceremony, two short film winners drew attention to the ongoing crisis.
Chiang Wei Liang, the Taiwanese director of Anchorage Prohibited (Jin zhi xia mao), won the Audi Short Film Award.
The film is about two migrant workers who attempt to settle in Taiwan with their child. Accepting the award, the director said: "We have lost far too many at sea just because they can't land. They don't have permission to land, not just here in Europe but back in my part of the world in Asia as well. The Rohingya Refugees [persecuted Muslims from Myanmar] is one that comes to mind.
"More can be done for these people, the social benefits, the protection of their rights… The Germans, you all have led the way in making such an immensely compassionate decision to bring in these people who are lost. It's true, there are angels in Berlin, not just perched on high on the Victory Column but right in view."
Germany let more than 1.1 million asylum seekers cross its borders in 2015.
The plight of refugees is also the theme of Mahdi Fleifel's A Man Returned, which won the Silver Bear Jury Prize for Short Film.
Accepting the award, Fleifel said: "This last week, I've asked a great deal why I only make films about refugees and my answer has been because I am one."
The director was born in Dubai but raised in a refugee camp in Lebanon before going on to train at the National Film and Television School in the UK.
Berlinale director on refugee focus
Donation boxes to support charities helping torture survivors were placed at cinema venues throughout the Berlinale and festival internships and free tickets were reserved for migrants.
Ahead of the awards, Berlin Film Festival director Dieter Kosslick told Screen: "We didn't want to do a refugee festival, even if we are in the middle of the mess. But we did want to have a festival where the refugee crisis is a big part. The right of happiness - this is a bigger question for the whole world.
"It was clear when I saw Gianfranco Rosi's film that it was a masterpiece in terms of telling you the truth. It is so humanistic.
"We have had 80,000 refugees here in Berlin in six months. We know them, we see them, it's very close to where I live."