Universal Pictures and Illumination Entertainment's animation Minions has raced to $339.9m and at its current rate will soar past $400m by Sunday.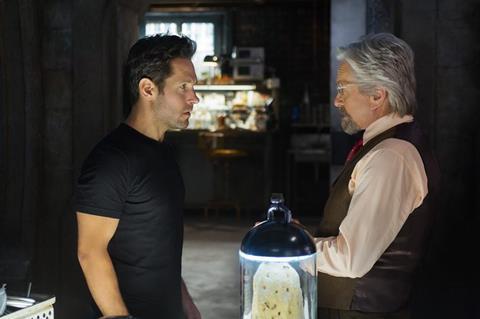 Jurassic World has generated $888.1m via Universal Pictures International and will cross $900m in the coming days, while Ted 2 stands at $58.2m.
Walt Disney Studios Motion Pictures International launches Marvel Studios' Ant-Man day-and-date with North America in approximately 37 territories.
Highlights are expected from the UK, Mexico, Australia, France, Russia, Brazil, Argentina, Taiwan, Hong Kong and Singapore and Venezuela.
Disney/Pixar's Inside Out stands at $161.1m and arrives this weekend in Japan, Spain and the Netherlands. Avengers: Age Of Ultron has grossed $934.9m.
Terminator Genisys has amassed $172m via Paramount Pictures International.
Magic Mike XXL has grossed an early $24.9m via Warner Bros Pictures International, while The Gallows has reached an early $1.9m and ventures into the UK and horror-loving Mexico this weekend. San Andreas has amassed $310.4m.
Fox International executives report that Dragon Ball Z: Resurrection F has amassed $51.1m, while Spy, which infiltrates Italy, stands at $117.7m. Paper Towns on an early $2m opens in Australia and New Zealand, Argentina and Colombia.
The Longest Ride on $25.4m debuts in France. True Story arrives in the UK and Spain. Poltergeist has grossed $47m and Far From The Madding Crowd $14.9m with Germany to come this weekend.
Sony Pictures Releasing International unleashes a slew of films in New Zealand this weekend: Dope, Diary Of A Teenage Girl, End Of The Tour, Grandma, The Lobster, Coming Home, Red Army, Lambert & Stamp and Merchants Of Doubt.
Insidious Chapter 3 opens in Australia and Belgium while Venezuela receives Foxcatcher.
Pixels ventures into its first market of South Korea, although the studio will most likely report numbers next weekend when it opens in multiple territories day-and-date with North America.