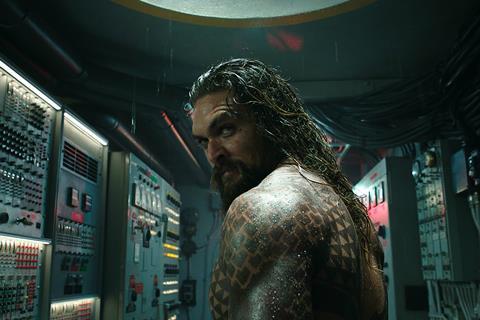 DECEMBER 27 UPDATE: Aquaman stood at $596.2m worldwide and $473.6m internationally through December 26 and will cross the $600m global milestone on Thursday (27), based on latest numbers from Warner Bros Pictures International executives.
The tentpole opened at number one in Australia on December 26 on $2.7m to deliver the highest DC Universe opening of all time and the highest opening day for a Warner Bros film in 2018.
By close of play on December 26, Aquaman had reached $246.4m in China, $19.3m in Brazil, $18.5m in South Korea, $18.3m in Mexico, $14.2m in the UK, abd $13.8m in Indonesia.
DECEMBER 26 REPORT: Aquaman continues to make waves and has reached $556.8m worldwide through December, according to Warner Bros Pictures International (WBPI) executives on December 26.
The DC Entertainment hit has amassed $451.1m internationally and a further $105.7m from the first few days in North America, where it remains the number one release as the holiday season progresses.
December 25 highlights include a string of number one holds led by $5.3m in China to put Aquaman on $243.5m after three weekends, $4.1m in South Korea in the first week, $1.1m for $17.4m in Mexico after two sessions, and $5.9m and $8.1m after opening weekends in Germany and France, respectively.
Behind China, Brazil is the next highest market so far on $17.9m, then Mexico and South Korea, followed by the UK on $13.8m, Russia on $13.4m, rising giant Indonesia on $13.3m, Taiwan on $9.7m, Philippines on $8.7m, then France, then India on $7.8m, and Malaysia on $7.7m.
Aquaman opened in Australia on December 26, and arrives in Italy on January 1, and Japan on February 8.
James Wan directed Jason Momoa in the lead, alongside Amber Heard, Willem Dafoe, Jason Patrick, Nicole Kidman, and Dolph Lundgren.