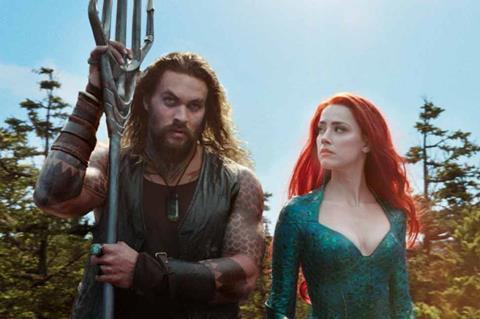 Aquaman stayed afloat at the top of North American box office to exit 2018 as the number one film in the charts as an estimated $51.6m propelled the tally to $188.8m and annual box office reached a record $11.8bn to eclipse $11.4bn from two years ago.
Warner Bros and DC Entertainment's Aquaman slipped a mere 23.5% and was too strong for the competition, although Disney's Mary Poppins Returns fared well, holding on to second place after a terrific 19.1% gain on the first weekend to gross $28m for $98.9m.
Dick Cheney biopic Vice starring Christian Bale as the former vice president of the United States alongside Amy Adams as his wife arrived at number six on $7.8m via Annapurna Pictures in 2,442 theatres and executives will look to awards buzz to build into a solid result in the weeks ahead. Adam McKay directed the serio-comic take on George W. Bush's notoriously powerful right-hand man.
Sony comedy Holmes And Watson featuring Will Ferrell and John C Reilly debuted in seventh place on a lacklustre $7.3m in 2,776 venues.
Paramount's Transformers spin-off Bumblebee held firm in third after a notable 5.1% slide, adding $20.5m in the second session for $66.8m. The top five all held position. Sony's Spider-Man: Into The Spider-Verse in fourth place gained 11.2% and added $18.3m for $103.6m after three, while The Mule in fifth place gained 24% following an expansion by 131 theatres to 2,787, grossing $11.8m for $60.7m in the third session.
Focus Features opened On The Basis Of Sex at number 22 on $690,000 from 13 venues for a $20,909 average. Felicity Jones stars as the Supreme Court justice Ruth Bader Ginsberg, alongside Armie Hammer and the iconic judge's late husband. Bollywood action film Simmba opened via Reliance Big Pictures at number 16 on $1.7m from 300 venues.
SPC released the Stan Laurel and Oliver Hardy drama and Toronto pick-up Stan & Ollie starring Steve Coogan and John C. Reilly at number 28 on $79,674 in five sites for a $15,935 average. Annapurna opened the crime drama Destroyer starring Nicole Kidman, Sebastian Stan and Toby Kebbell at number 30 on $58,472 from three theatres for a $19,491 average.
There was good news for a handful of awards contenders. Fox Searchlight's The Favourite stands at $15.2m in 12th place after six sessions and climbed 15.1% after adding 19 venues to reach 809. Focus' Mary Queen Of Scots rank 11th on $9m after four sessions, and Green Book at number 15 stands at $31.5m after seven weekends through Universal.
Box office for the top 12 combined for $168.3m, up 0.8% against last weekend's three-day session, and down 6.6% against the final three-day weekend of 2017.
This being a box office report, it should also be noted that Netflix claimed on Friday that 45million accounts viewed the Sandra Bullock horror film Bird Box in the first seven days, marking what Netflix said was a record for one of its original movies. Per the streaming company's custom, the claim is unverifiable, lacking in specifics, and largely meaningless.
This week's first wide release of 2019 will be Sony's horror film Escape Room.
Estimated top 10 North America Dec 28-30, 2018
Film (Dist) / Est wkd gross / Est total to date
1 (1) Aquaman (Warner Bros) Warner Bros Pictures International $51.6m $188.8m
2 (2) Mary Poppins Returns (Buena Vista) Walt Disney Studios Motion Pictures International $28m $98.9m
3 (3) Bumblebee (Paramount) Paramount Pictures International $20.5m $66.8m
4 (4) Spider-Man: Into The Spider-Verse (Sony) Sony Pictures Releasing International $18.3m $103.6m
5 (5) The Mule (Warner Bros) Warner Bros Pictures International $11.8m $60.7m
6 (-) Vice (Annapurna) $7.8m $17.7m
7 (-) Holmes And Watson (Sony) Sony Pictures Releasing International $7.3m $19.7m
8 (7) Second Act (STX) STX International $7.2m $21.8m
9 (8) Ralph Breaks The Internet (Buena Vista) Walt Disney Studios Motion Pictures International $6.5m $175.7m
10 (6) Dr. Seuss' The Grinch (Universal-Illumination) Universal Pictures International $4.2m $265.5m