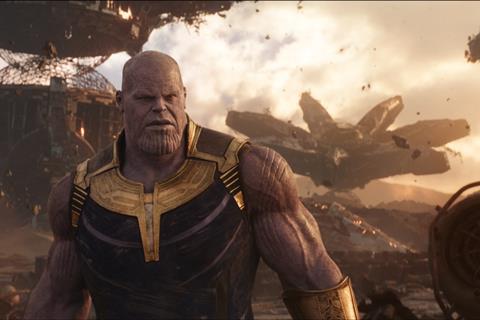 MAY 2 REPORT: Marvel Studios' Avengers: Infinity War added $87.9m on Tuesday as the worldwide tally surged to $808.4m through the Disney pipeline.
The tentpole, which last weekend scored the highest global and North American opening weekends and the second highest international weekend in history, stands at $502.5m internationally and $305.9m in North America. It opens in Russia on May 3 and China on May 11.
South Korea has overtaken the UK as the lead market on $48.7m. Next comes the UK on $48.3m following its record-breaking opening weekend, then Mexico on $36.4m, Brazil on $28.4m, India $26m, Australia $25.7m, France $24.1m, Germany $21.1m, Philippines $16m, and Indonesia $15.9m.
Avengers: Infinity War stands at $14.9m in Italy, $13.3m in Japan, $12.5m in Taiwan, $12.4m in Spain, $12.2m in Thailand, $11.5m in Hong Kong, and $11.2m in Malaysia.
On Tuesday the tentpole overtook the final global gross of Spider-Man 2 ($784m), Deadpool ($783m), Guardians Of The Galaxy ($773m), The Amazing Spider-Man ($758m), X-Men: Days Of Future Past ($748m) and Suicide Squad ($747m).
On Monday it passed Captain America: Winter Soldier ($714m), The Amazing Spider-Man 2 ($709m), Doctor Strange ($678m), Man Of Steel ($668m), Justice League ($658m), and Thor 2 ($645m).
The superhero mash-up previously overtook the global grosses of Iron Man 2, Logan, Iron Man, Ant-Man, Thor, Captain America: First Avenger and The Incredible Hulk.