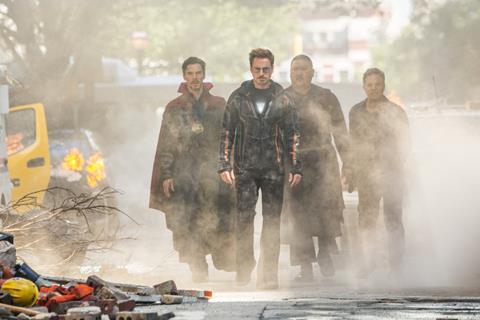 APRIL 30 UPDATE: Avengers: Infinity War delivered the perfect finale for Phase One of Marvel Studios' plan for global domination as it rewrote the record books with a confirmed $257.7m North American debut through Buena Vista, some $7.5m higher than initial estimates on Sunday.
The historic opening salvo came as part of a record-breaking $640.5m worldwide debut. In North America, Infinity War scored the second highest opening day (Friday) on $106m, the highest Saturday on $83m, and a record-breaking estimated $69.2m on Sunday. It means Marvel now holds six of the top 10 and Disney nine of the top 10 opening weekends.
Paramount's horror smash A Quiet Place ranks second in its fourth weekend as $11m boosted the running total to $148.5m. Last weekend's opener I Feel Pretty starring Amy Schumer held in third place after a 49% drop as it added $8.2m for $29.6m.
Warner Bros' Rampage with Dwayne Johnson ranks fourth on $7.2m for $78m after three sessions. Fox's comedy Super Troopers 2 followed up last weekend's fine debut as it slipped two slots to number six on $3.7m for $22.1m.
Bleecker Street opened Disobedience starring Rachel Weisz and Rachel McAdams from Oscar-winning Chilean auteur Sebastian Lelio at number 22 on $237,393 from five sites for a superb $47,479 average.
The Orchard opened Mustang director Deniz Gamze Ergüven's Kings starring Halle Berry and Daniel Craig at number 26 on $163,289 from 214. IFC released Juliette Binoche comedy drama Let The Sunshine In at number 38 on $39,699 in two venues.
Overall the top 12 films generated $305.7m climbing 173.7% from last weekend and 259.7% against the comparable session in 2017.
This week's wide releases are: Jason Reitman's comedy Tully starring Charlize Theron through Focus Features; and crime drama Bad Samaritan through Electric Entertainment; and rom-com Overboard via Pantelion.
Estimated top 10 North America April 27-29, 2018
Film (Dist) / Est wkd gross / Est total to date
1 (-) Avengers: Infinity War (1) (Buena Vista) Walt Disney Studios Motion Pictures International $258.2m –
2 (1) A Quiet Place (Paramount) Paramount Pictures International $11m $148.5m
3 (3) I Feel Pretty (STX) Voltage Pictures $8.2m $29.6m
4 (2) Rampage (Warner Bros) Warner Bros Pictures International $7.2m $78m
5 (8) Black Panther (Buena Vista) Walt Disney Studios Motion Pictures International $4.7m $688.4m
6 (4) Super Troopers 2 (Fox) Fox International $3.7m $22.1m
7 (5) Truth Or Dare (Universal) Universal Pictures International $3.3m $35.4m
8 (7) Blockers (Universal) Universal Pictures International $2.9m $53.2m
9 (6) Ready Player One (Warner Bros) Warner Bros International $2.6m $130.8m
10 (9) Traffik (Lionsgate) Lionsgate International $1.7m $6.8m