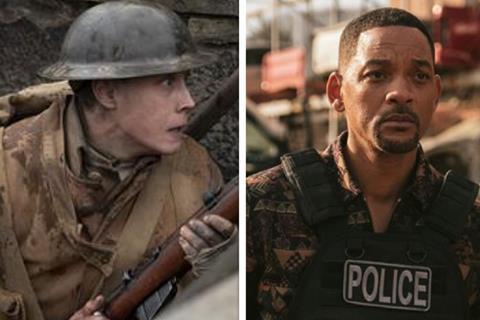 1917 and Bad Boys For Life both crossed $200m at the worldwide box office over the weekend, while Greta Gerwig's Little Women is fast approaching the $150m mark.
Searchlight Pictures' Jojo Rabbit crossed $50m worldwide, while Blue Sky Studios' Spies In Disguise is poised to breach the $150m barrier.
SONY PICTURES RELEASING INTERNATIONAL
Bad Boys For Life ruled the international weekend and surged past the $200m worldwide box office mark to reach $215m. The action sequel starring Will Smith and Martin Lawrence grossed $42m internationally as the running total climbed to $95m.
In a raft of number one debuts, it opened in Russia on $4.7m, France on $4.1m, Netherlands $1.5m including previews, Belgium on $1.4m including previews, Ukraine on $1.1m, Colombia on $1.1m, and South Africa on $1m including previews.
The UK delivered the top hold as Bad Boys For Life added $3.5m for 10.7m, followed by Germany on $3.3m for $9.6m, Mexico $2.4m for $8.1m, Australia $2.3 for $7.6m, and Spain $1.2m for $4.1m.
Jumanji: The Next Level stands at $738m worldwide and added $9.6m internationally for $454m, fired up by a $2.3m second weekend hold in Brazil that raised the tally there to $8.7m.
Greta Gerwig's Little Women is approaching the $150m global box office mark and stands at $147m, of which $53m comes from the international arena following a $5.6m session. The period drama opened in Mexico on $730,000, and has amassed $24.1m in the UK. Horror remake The Grudge grossed $2.5m for. $19.5m international running total.
UNIVERSAL PICTURES INTERNATIONAL
In the weekend when 1917 cemented its status as an Oscar favourite, the First World War drama grossed $23.7m through Universal Pictures International and Amblin Partners territories for a $96.6m running total and combined with a $15.8m hold in North America, where the film has crossed $100m, to reach an estimated $200.5m at the global box office.
On Saturday Sam Mendes was named best director by the Directors Guild of America, propelling him to the top of the pile in the run-up to the Oscars on February 9. The film is produced by Amblin Partners, DreamWorks, Neal Street Productions and New Republic Pictures.
Universal territories generated $7.6m for $19.5m punctuated by a $1.5m number three bow in Brazil, and second-weekend holdovers in France ($2.4m for $7.4m), Germany ($1.5m for $3.9m), and Mexico ($969,000 for $2.9m). Amblin Partners delivered $16.1m for $77.1m.
Dolittle earned $13.2m as the Robert Downey Jr. family drama climbed to an early $46.4m, and $91.1m worldwide. It opened in nine markets, led by $1.9m for first place in Spain, and a chain of number two debuts in Asia where it produced $809,000 in Malaysia, $798,000 in Taiwan, and $780,000 in Hong Kong.
In its second session Dolittle added $1.5m in Australia for $5.1m, and $953,000 in Indonesia for $3.6m. India has delivered $1.8m after two, and Colombia $1.6m. South Korea remains by far the lead market on $11.4m after three weekends.
WALT DISNEY STUDIOS MOTION PICTURES INTERNATIONAL
Searchlight Pictures' Jojo Rabbit has crossed $50m worldwide following a $6.8m session that boosted the tally to $54m. Taika Waititi's film added $5.4m from international markets for $28.1m, and opened in Mexico in second place on $700,000, and arrived in Germany on $500,000 ($600,000 including previews).
The UK remains the lead market on $8.1m, followed by Australia on $4.5m, Waititi's native New Zealand on $3.1m, Italy on $2.2m, Japan on $1.6m, Spain on $1.4m, and Netherlands on $1.3m.
Blue Sky Studios' Spies In Disguise is posed to cross $150m worldwide and stands at $147.8m. The animation grossed $6.9m for an $85.8m international running total and debuted in South Korea on $1.4m ($1.7m including previews), and arrived in Brazil in fifth place on $600,000.
Frozen II added $7m for $949.5m internationally and $1.4193bn globally, overtaking Avengers: Age Of Ultron on $1.404bn to rank as the tenth highest global release of all time.
Star Wars: The Rise Of Skywalker crossed $500m in North America and used a $5.5m international session to reach $544.6m and $10.7m globally for $1.046bn. North America has generated $501.6m.
MIRAMAX INTERNATIONAL
The Gentlemen opened in 20 international territories over the weekend, earning $3.1m for $22.5m. The gangster caper arrived in the Middle East on $658,000 and debuted in Taiwan on $482,000. It added $1.1m in the UK for $12.2m after four weekends and grossed $496,000 in Australia and New Zealand for $8.8m after four.
LIONSGATE INTERNATIONAL
Whodunnit Knives Out grossed $2.2m from 62 markets for $134.9m internationally and $286.8m worldwide. China is top on $28.2m after eight sessions, followed by the UK on $16.5m after nine. Knives Out will finish its international rollout in Japan on January 31.
WARNER BROS PICTURES INTERNATIONAL
Richard Jewell used a $1.6m session from 32 markets to push the international tally to $11.4m, and worldwide to $33.6m. Italy is the lead market on $2.4m.
Miscarriage of justice drama Just Mercy brought in $1.5m from 20 markets as the international running total reached $3.4m and worldwide climbed to $30.5m. The film starring Jamie Foxx, Michael B. Jordan and Brie Larson debuted in Australia on $531,000, and added $338,000 in the UK to reach $1.4m after two sessions.