MARCH 28 UPDATE: Warner Bros opened the DC Entertainment vaults and reaped the rewards as the sixth biggest domestic debut in history fuelled a $420m worldwide haul.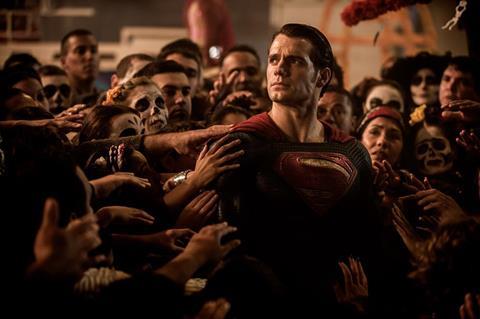 Ben Affleck, Henry Cavill, Gal Gadot, and Jesse Eisenberg star in the superhero mash-up by Zack Snyder. Batman V Superman: Dawn Of Justice earned $18m from 388 Imax screens.
Gold Circle, HBO and Playtone's My Big Fat Greek Wedding 2 starring Nia Vardalos debuted at number three on $17.9m.
Roadside Attractions expanded Sally Field comedy Hello, My Name Is Doris by 357 theatres to 485 and the film climbed five places to number nine to reach $3.2m after three weekends.
Bleecker Street's drone thriller Eye In The Sky vaulted ten places to number 11 and expanded by 88 to 123 sites for $1.7m after three sessions.
Overall the top 12 generated $245.3m to climb 107.8% over last weekend and gained 42% on the comparable session in 2015.
This week's wide releases is God's Not Dead 2 through PureFlix.
Confirmed top 10 North America March 25-27, 2016
Film (Dist) / Conf wkd gross / Conf total to date
1 (-) Batman vs Superman: Dawn Of Justice (Warner Bros) Warner Bros Pictures International $166m –
2 (1) Zootopia (Buena Vista) Walt Disney Studios Motion Pictures International $24m $241.4m
3 (-) My Big Fat Greek Wedding 2 (Universal) Universal Pictures International $17.9m –
4 (3) Miracles From Heaven (TriStar) Sony Pictures Releasing International $9.7m $34.3m
5 (2) The Divergent Series: Allegiant (Lionsgate-Summit) Lionsgate International $9.4m $46.5m
6 (4) 10 Cloverfield Lane (Paramount) Paramount Pictures International $5.9m $55.9m
7 (5) Deadpool (Fox) Fox International $4.9m $349.4m
8 (6) London Has Fallen (Focus Features) Nu Image $3m $55.7m
9 (14) Hello, My Name Is Doris (Roadside Attractions) $1.7m $3.2m
10 (11) Risen (Columbia Picrtures) Sony Pictures Releasing International $935,000 $36m