APRIL 3 UPDATE: Ghost In The Shell debuts on $40.1m; Kong: Skull Island crosses $300m, $120m in China.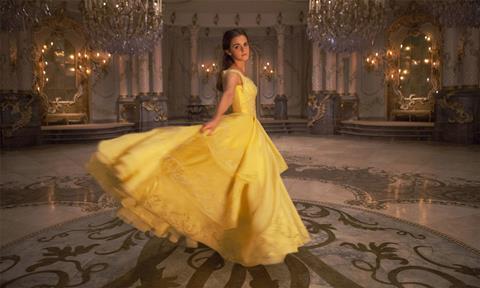 WALT DISNEY STUDIOS MOTION PICTURES INTERNATIONAL
UPDATED: Beauty And The Beast added $67.2m for $481.6m internationally in its third weekend and $45.9m in North America to reach $393.9m as the worldwide total surged to $875.5m.
Disney's live-action adaptation added $45.9m in North America to reach $393.9m and ranks as the top release of the year-to-date in North America, internationally and globally.
Beauty And The Beast opened in four markets and has reached $188m in Europe, surpassing the sum generated by Batman v Superman, Captain America: Civil War and Suicide Squad.
The Emma Watson and Dan Stevens starrer was number one in 13 markets including the UK, Germany, Italy and Spain.
In Latin America, it stayed top in Argentina and Brazil, with Brazil ranking ahead of new openers Boss Baby and Ghost In The Shell in its third weekend. In Asia, Beauty And The Beast was the top release in South Korea.
China is still the top market on $80.5m, followed by the UK on $64m. Brazil has generated $31.3m, South Korea $30.1m, Mexico $27m, Germany $22m, Australia $20m, Italy $19.6m, Spain $17.5m, Russia $14m, France $13.2m and the Philippines $12.5m. The film will debut in Japan on April 21.
Moana grossed $5.5m to reach $379.8m and stands at $628.4m worldwide. With all markets opens, France is the leader on $35.4m, Japan on $33.2m, China $32.7m, the UK on $24.9m, and Brazil on $22.9m.
PARAMOUNT PICTURES INTERNATIONAL
UPDATED: Sci-fi adventure Ghost In The Shell starring Scarlett Johansson opened in 52 markets this weekend grossing $40m. The film, produced by Paramount, DreamWorks and Reliance Entertainment and adapted from the popular Japanese anime of the same name, was number one in 11 markets this weekend. The result is 7% above Elysium, 6% below Oblivion and 6% below Edge Of Tomorrow.
Russia delivered a number two debut on $5.3m, South Korea number three on $4.2m, France $3.1m, the UK $2.8m, and Germany $2m.
Mexico produced a second-place finish on $2.1m and Brazil $1.9m for third place, while Australia generated a number one debut on $1.8m, Spain produced $1.3m, Hong Kong $1.2m, Taiwan $1.1m, and Italy $1m.
Three markets open this week including China and Japan.
Ghost In The Shell launched on 657 IMAX screens in 55 markets, earning $3.3m from 278 screens.
WARNER BROS PICTURES INTERNATIONAL
UPDATED: Legendary and Warner Bros' Kong: Skull Island generated an additional $34.6m in 67 markets this weekend, bringing the latest 'MonsterVerse' instalment to $331.3m. After dropping 24%, Japan held strong in its second session, adding $3.5m for $10.3m.
The CGI-fuelled action-adventure finished top in China on $23.7m in its second week, bringing the running total to $124m. At this point, Skull Island has surpassed the lifetime grosses of all previous Warner Bros titles in the market, including Godzilla, Pacific Rim, Batman V Superman, Interstellar, and The Hobbit: The Battle Of Armies and is poised to enter the top 15 English-language releases of all time within days.
The film stands at $17.7m in the UK, while Mexico has generated $13.7m, South Korea $12.1m, and Russia and France on $10.5m each. Australia stands at $9.3m, Brazil $9.1m, Germany $8.5m Taiwan $7.9m, and Vietnam and Malaysia on $6.7m apiece.
Skull Island earned another $3.1m in IMAX, with $2.7m of that total coming from 388 IMAX screens in China, bringing it to $11.1m in that territory. The film has reached $29.3m in global IMAX box office.
The LEGO Batman Movie grossed $2.7m from 43 international markets for $124.5m. It opened on $2m in Australia, ranking number two. With staggered school holidays beginning across the country this week, Warner Bros executives expect strong numbers through the week. Japan debuted on $354,000, which exceeds the opening Saturday and Sunday weekend results of The Lego Movie by 67%.
The top grossing markets are the UK on $33.3m, Mexico on $8.4m, Germany on $7.3m, Brazil on $6.3m and China on $6.1m.
France has reached $5.5m, while Russia and Spain have $4.8m each. Poland and Italy both stand at $3m.
CHiPS added $1.2m in 33 markets to bring the international sum to $3.9m. The action-comedy starring Dax Shepard and Michael Peña opens this week in Australia and Mexico.
LIONSGATE INTERNATIONAL
UPDATED: Power Rangers has reached $33m after adding $8.3m this weekend from 70 markets. Mexico was the top performer on $4.8m and Brazil followed closely behind on $4.1m. The UK has produced $3.8m and Malaysia $2.5m, while Australia rounds out the five with $1.8m.
The action-adventure opens in France, Italy, Spain and Sweden this week.
FOX INTERNATIONAL
UPDATED: The Boss Baby secured $38m at the international box office from 38 markets day-and-date with the table-topping North American debut.

The animation topped the charts in 10 markets, including $6.6m in Mexico, where it scored the biggest DreamWorks Animation opening weekend ever.

Russia delivered $6m for $21.5m and the film ranks as the ninth biggest animated title of all time in the market; while France on $5.5m is tracking 6% ahead of Sing.

The animation voiced by Alec Baldwin, Toby Maguire and Steve Buscemi enters 44 further international markets throughout spring, including the UK and Sweden this week.

Logan delivered $5.4m in its fifth weekend of release, bringing the X-Men spin-off to $373.8m. Top holdovers include Brazil, where the action adventure added $901,000 for $28.3m to rank as Fox's third biggest title of all time. France generated $663,000 for $14.3m, and the UK $548,000 for $28.2m. Japan will be the final release in June.

Hidden Figures earned $1.8m from 17 markets for $56m, while A Cure For Wellness grossed $1.9m from 726 screens in Russia this weekend, bringing the international total to $16.1m.
CHINA BOX OFFICE
Thriller The Devotion Of Subject X grossed $22.2m to reach $22.4m. The film stars Kai Wang and Ruby Lin and opened at number 15 in North America through China Lion on $330,000.
SONY PICTURES RELEASING INTERNATIONAL
UPDATED: Sony Pictures Animation's Smurfs: The Lost Village brought in $15.4m from 32 markets. Early markets have got off to a decent start with the bulk of major markets set to roll out over the Easter holiday period, including France, Brazil, Germany, Italy and Mexico, next week.

Notable openings include Russia's $2.5m haul that includes previews, Spain on $2.1m and the UK on $1.7m including previews.

Life, which recently received its world premiere at SXSW, added $6.1m in 57 markets for a total of $28.4m. The sci-fi thriller from Columbia Pictures and Skydance will open this week in South Korea and Spain. The film stars Ryan Reynolds, Jake Gyllenhaal and Hiroyuki Sanada.
UNIVERSAL PICTURES INTERNATIONAL
UPDATED: Universal and Blumhouse Productions' Get Out continued its roll-out with five new openings this weekend. The horror grossed $2.4m in 15 territories for $10.4m and combines with North America's $156.7m haul for $167m. The UK is the top market, holding strong at number four on $1.4m for a running total of $8.5m.
Universal and Illumination's Sing added $5.4m in 34 territories this weekend for $344.4m. The animated musical stands at $614.3m worldwide and ranked number one in Japan for the third week in a row with $4.2m for $28.4m. There are no more international releases.
M. Night Shyamalan's Split from Universal and Blumhouse brought in $2.7m from 35 territories for $132.5m. Brazil is the top holdover at number four on $1m for an 11-day total of $3.1m, while Russia is holding at number eight in week three on $793,000 for $9.2m. Japan will be the final market on May 12.
Amblin, Reliance and Walden's A Dog's Purpose has generated $896,000 in 40 territories for $116.4m. Universal has grossed $21.4m in 19 territories. In China, where Huaxia Film releases, it has grossed $85m and Mister Smith territories have grossed $10m. Russia opened at number seven on $817,000. Japan opens in late September.
Fifty Shades Darker grossed $512,000 in 36 territories this weekend for a total of $264.4m. Combined with the $114.4m from North America, the film stands at $378.8m worldwide. Japan will be the last release on June 23.