AUGUST 22 UPDATE: MGM-Paramount's $100m Ben-Hur flopped on $11.2m to become the latest victim in a dismal summer for remakes and sequels, while Warner Bros' comic book adaptation stayed top for the third weekend in a row.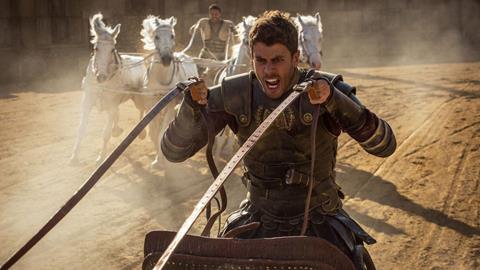 MGM partnered with Paramount on Ben-Hur, which stars Jack Huston and Toby Kebbell under the direction of Timur Bekmambetov, and the film did not impress critics or audiences as it opened in sixth place.
Strong Christian elements in the story – famously brought to the screen in the 1959 version starring Charlton Heston – and the presence of MGM president of television Mark Burnett and his wife Roma Downey serving as producer and executive producer, respectively – suggested a faith-based play.
However the film failed to catch on with a wide audience — it rolled out in 3,084 theatres — and all eyes will be on the international box office, where Ben-Hur debuted at the weekend on a solid $10.7m from 23 markets and not surprisingly played best in Mexico and Brazil.
War Dogs arrived at number three via Warner Bros on $14.7m and Focus Features opened Laika Entertainment's animation Kubo And The Two Strings at number four on $12.6m.
Suicide Squad added a confirmed $20.9m to propel the running total to a handy $262.4m and keep Sausage Party and the three new arrivals at bay.
It should cross $300m by the end of its run in North America and stands at $575m worldwide.
When studio chiefs dipped into the DC vaults in a bid to mount a serious challenge to Marvel Studios, they knew the irreverent tone of David Ayer's R-rated film would mark the start of something different.
While box office has not been quite as spectacular as what executives would have wanted given the stated $175m negative cost and likely a similar amount in worldwide marketing spend, the film is breaking even and continues to deliver an encouraging performance that bodes well for the future.
Annapurna Pictures' R-rated Sausage Party held firm at number two in its second weekend after dropping 55% on $15.5m for $65.5m. At a reported $19m price-tag it has done well for the company and distributor Sony.
The Hangover director Todd Phillips helmed War Dogs starring Jonah Hill and Miles Teller and despite earning mostly decent reviews, the adaptation of a Rolling Stone article about two young Americans who try their hand at gun-running delivered a muted launch in 3,258 theatres.
Laika's Kubo And The Two Strings garnered excellent reviews although this was the lowest North American debut in Laika's four-film career thus far (the others being Coraline, ParaNorman and Boxtrolls.) Kubo debuted in 3,260 sites.
Pathé's Florence Foster Jenkins fell two places to number ten following a 33.6% and grossed $4.4m for $14.5m after two sessions through Paramount.
CBS Films' Hell Or High Water expanded via Lionsgate by 440 sites in its second weekend, vaulting seven places to 12th after adding $2.7m for $3.6m.
Eros Entertainment opened Happy Bhaag Jayegi! at number 30 on $159,895 in 78 venues, while Kingslaive: Final Fantasy XV debuted through Vertical Entertainment in 37th place on $119,801 from 24.
Magnolia Films released Werner Herzog's documentary Lo And Behold! Reveries of The Connected World at number 38 on $114,273 from 39.
Natalie Portman's feature directorial debut A Tale Of Love And Darkness scored a terrific limited debut, opening through Focus World at number 44 on $37,170 from two venues. Voltage Pictures handles international sales.
Cohen Media Group released The People Vs Fritz Bauer at number 46 on $33,781 from six. Sundance pick-up Morris From America arrived at number 51 on via A24 on $15,673 from two.
Overall the top 12 combined for $119.1m, down 25% on last weekend and up 23.3% on the $91.4m session one year ago.
This week's wide releases are: horror Don't Breathe through Screen Gems; TWC's Roberto Duran boxing biopic Hands Of Stone with Edgar Ramirez and Robert De Niro; and Jason Statham and Jessica Alba in Lionsgate-Summit's Mechanic: Resurrection.
Confirmed top 10 North America August 19-21, 2016
Film (Dist) / Conf wkd gross / Conf total to date
1 (1) Suicide Squad (Warner Bros) Warner Bros Pictures International $20.9m $262.4m
2 (2) Sausage Party (Sony) Sony Pictures Releasing International $15.5m $65.5m
3 (-) War Dogs (Warner Bros) Warner Bros Pictures International $14.7sm –
4 (-) Kubo And The Two Strings (Focus Features) Universal Pictures International $12.6m –
5 (3) Pete's Dragon (Buena Vista) Walt Disney Studios Motion Pictures International $11.3m $42.9m
6 (-) Ben-Hur (Paramount) MGM / Paramount Pictures International $11.2m –
7 (4) Jason Bourne (Universal) Universal Pictures International $8m $140.9m
8 (5) Bad Moms (STX Entertainment) STX International $7.9m $85.7m
9 (6) The Secret Life Of Pets (Universal) Universal Pictures International $5.9m $346.8m
10 (8) Florence Foster Jenkins (Paramount) Pathé $4.4m $14.5m