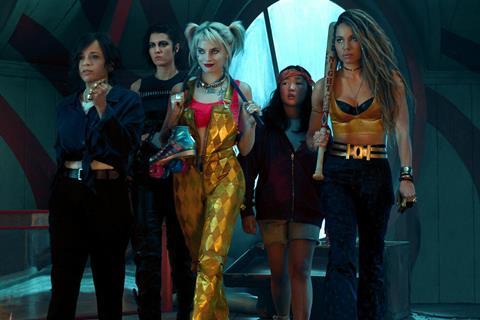 FEBRUARY 10 UPDATE: Boding well for a year that will see five comic-book tentpoles directed by women, Margot Robbie action vehicle Birds Of Prey directed by Cathy Yan dominated the global box office in its maiden session, earning a confirmed $79.5m including a $33m number one launch in North America.
Meanwhile, 1917 is approaching $300m worldwide box office, while Dolittle crossed $150m, and Little Women stands at the cusp of $75m, internationally.
WARNER BROS PICTURES INTERNATIONAL
UPDATED: The Suicide Squad spin-off featuring Robbie as Harley Quinn earned $46.5m from 78 markets and performed strongly in traditionally robust DC markets in Latin America, the UK, and Russia. Mexico led a raft of number one debuts on $4.4m, followed by Russia on $3.9m, the UK $3.7m in a number two debut behind the launch of Dolittle, and Brazil on $2.8m in first place.
In further table-topping launches, Birds Of Prey earned $2.6m in France and Australia and $2.4m in Indonesia, which delivered a strong result despite coronavirus fears impacting overall cinema-going across swathes of southeast Asia.
There were number two debuts in South Korea and Germany on $2m and $1.6m, respectively. The film grossed $1.6m in Taiwan in first place, $1.4m in Spain, and $1.3m in Italy in second.
Japan will be the last market to open on March 20. Birds Of Prey also stars Rosie Perez, Mary Elizabeth Winstead, Jurnee Smollett-Bell, Ella Jay Basco, and Ewan McGregor.
UNIVERSAL PICTURES INTERNATIONAL
UPDATED: Dolittle grossed $19.1m for a $96.9m international running total and has reached $160.8m worldwide. The Robert Downey Jr. family adventure defied poor reviews to open at number one in the UK on $6.6m including $2.5m in previews. It opened in France at number two on $2.5m.
Mexico led the second-weekend holds on $1.8m in third for $7.6m, followed by Germany on $1.6m in second for $5m, and Italy on $1.3m in third for $3.9m. Spain produced $1.1m in third for $4.9m after three weekends, and Australia has delivered $7.1m after four sessions.
Oscar frontrunner 1917 grossed $6.6m for $41.5m through Universal territories, and took $16.3m including Amblin Partners territories for an overall $157.8m international running total, rising to $290.6m worldwide.
The First World War thriller opened in Philippines on $206,000 in third place, while France was the top holdover, adding $1.6m in fifth place for $12.8m after four sessions. Russia delivered $1m for number three to reach $3.5m after two sessions, and Germany $834,000 for $6.7m after four.
Cats stands at $44.8m internationally and has mustered $71.9m from global markets. The Lighthouse, which earned Willem Dafoe a best supporting actor Spirit Award on Saturday night, stands at $5.9m internationally and $16.8m worldwide.
AMBLIN PARTNERS
1917 earned $8.7m for $113.5m, powered by the eOne markets where a $2.7m session in the UK through ranked third and raised the tally to $46.1m after five weekends. Australia generated $1.1m for second place and $13m after five weekends, Italy $832,000 for $6.1m after three, and Spain $782,000 for $8.8m after five following a 1% drop. Netherlands generated $755,000 for $7.9m after five.
Sweden has delivered $1.4m through Nordisk after two, Poland $1.3m through Monolith after three, and India $1.4m through Reliance after four.
SONY PICTURES RELEASING INTERNATIONAL
UPDATED: Columbia Pictures' Bad Boys For Life grossed $16.2m from 63 markets for a $170.1m international running total and $336.4m worldwide. The UK leads the way on $17.1m, followed by Germany on $14.6m, Mexico on $11.8m, Australia on $11.2m, Russia on $10.9m, France on $10m, Spain on $6.3m, and Saudi Arabia on $5.2m.
Columbia Pictures' Jumanji: The Next Level added $3.5m from 58 for $479.8m, rising to $768.3m worldwide.
Columbia Pictures' Little Women on six Oscar nominations heading into Sunday night's ceremony earned $6.3m from 54 markets as the international gross climbed to $75m and worldwide reached $177.7m. Key markets to date are the UK on $27.1m, Australia on $10.2m, Italy on $6.4m, France on $5.6m, and Spain on $5.1m.
WALT DISNEY STUDIOS MOTION PICTURES INTERNATIONAL
UPDATED: On the back of its six Oscar nominations, Searchlight Pictures' Jojo Rabbit has now reached $74m globally. The Second World War friendship drama earned $4.5m internationally for $44.4m, and climbed to $74.5m worldwide. It opened in Brazil on $400,000 including previews, and arrived in South Korea on $300,000.
The film has grossed $9.5m in the UK, $5.5m in Australia, $3.8m in Italy, $3.2m in New Zealand, $3m in Mexico, $2.7m in Japan, and $2.7m in Spain.
Blue Sky Studios' Spies In Disguise from Fox added $2.8m for $98.4m internationally and climbed to $163.3m worldwide.
MIRAMAX
The Gentlemen earned $3.8m as the international haul climbed to $33.5m, powered by a $1.3m debit in France. The UK added $454,000 for $14.5m after six sessions, and Australia and New Zealand have generated $10.2m after six. Guy Ritchie's crime film opened in Russia and Mexico this week.
LIONSGATE INTERNATIONAL
Knives Out has reached $299.6m globally after 11 weekends of release, while the international tally has reached $140.7m with China the lead market on $28.4m.