SCREEN SUBSCRIBERS: A slapstick comedy has become the biggest local film of all time in what is set to be the most successful year at the German box office in history.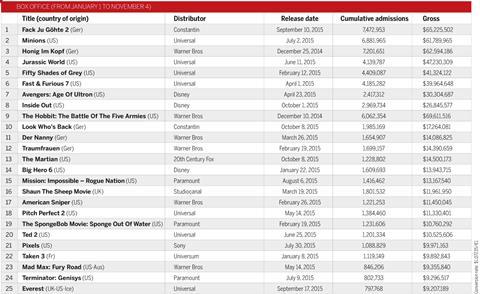 This year is poised to be a record one at the German box office, with more than 90 million tickets sold and receipts of $808m (€754m) already posted for the first nine months of this year. This is an increase of 14.7% and 16.7% respectively over the same period in 2014.
The year-on-year increase can be explained in part by the hike in the average ticket price from $8.73 (€8.14) to $8.91 (€8.31), as well as a number of releases attracting more than four million admissions such as Fast & Furious 7, Fifty Shades Of Grey and local hits Honig Im Kopf and Fack Ju Göhte 2.
Indeed, although represented only by a handful of titles, local films have dominated the box office through the year; beginning with Til Schweiger's tragicomic road movie Honig Im Kopf, which Warner Bros released on December 25, 2014. It was the biggest film of the year until the release of Minions in July.
The tables were turned again when Constantin Film launched the irreverent comedy Fack Ju Göhte 2, Bora Dagtekin's sequel to his 2013 hit comedy, on September 10. The film scored 2.1 million admissions on its first weekend, the biggest opening for a German film in history. (By comparison, Spectre was seen by 1.7 million cinema-goers in its first four days). Fack Ju Göhte 2 again stars Elyas M'Barek as the bank robber-turned-school teacher who this time takes his unruly students to Thailand. It took just six weeks on release for the film to become the most successful German film of all time.
The other big local film of the year is David Wnendt's satirical Hitler comedy Look Who's Back (Er Ist Wieder Da). Based on Timur Vermes' bestselling novel, it imagines Adolf Hitler waking up in the 21st century with no memory of anything since 1945 and believing the Nazis won the war.
Of the nine German films in the year's top 50 to date, six are comedies, while the other three are the latest outings by local family entertainment franchises: Ostwind 2, Fünf Freunde 4, based on Enid Blyton's Famous Five book series, and Bibi Und Tina.
The popularity of the 3D format is waning among German cinema-goers, according to the German Federal Film Board's Frank Völkert. There has been a drop of almost 16% in admissions for films shown in 3D compared to 2014. "For example, Minions was seen by over 6.8 million people but only 35% of these saw it in 3D," Völkert says.
The bulk of Germany's cinema admissions and takings may still go to US releases but franchise reboots haven't been entirely welcomed. Paramount's Terminator: Genisys and Warner Bros' Mad Max: Fury Road didn't manage to crack the 1 million admission threshold, while Fox's Hitman: Agent 47 didn't make the top 50.
Meanwhile, there have been no breakout arthouse hits on the scale of last year's French comedy Serial (Bad) Weddings, which clocked up more than 3.6 million admissions for Neue Visionen Filmverleih. One of the highest-grossing international films in Germany is the UK's Paddington ($13.3m), released in early December 2014.
Tables supplied by Rentrak