SCREEN SUBSCRIBERS: Local films may have lost ground to US titles in 2015 but a slew of releases may help Spain's production industry end the year on a high.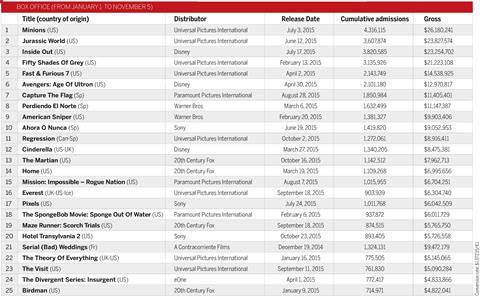 Spain's 2015 box-office receipts and cinema admissions are on course to beat 2014's revenue total of $554m (€518m).
The big difference is a stronger crop of US films this year compared to last, which saw titles including X-Men: Days Of Future Past, and Captain America: The Winter Solider disappoint in the territory.
To date, the highest grossing film of the year is Minions, which has taken $26.1m (€24.4m). The highest-grossing US film of 2014 was Dawn Of The Planet Of The Apes, which took just $17.3m (€16.2m).
By contrast, Spanish films have not fared as well to date this year compared to last. The market share for local productions is due to drop from 25% in 2014 to 20% in 2015 (it was 12% for the first nine months of the year). The buoyant figures of 2014 were propelled by the record-breaking success of local juggernaut A Spanish Affair, which took more than $76m (€71m) — an all-time record for a local film — and El Nino which grossed $19.3m (€18m).
The most successful local film of the year to date is Gato's space animation Capture The Flag, released by Paramount.
Further local successes in 2015 are the comedy Perdiendo El Norte (Warner Bros), which has taken $11.1m (€10.4m) and Sony's romantic comedy Ahora O Nunca, which features Spanish mega stars Dani Rovira and Maria Valverde and has grossed $9m (€8.4m).
The Spanish-Canadian co-production Regression has fared better in Spain than in other territories. Audiences initially flocked to the thriller, directed by local favourite Alejandro Amenabar and starring Ethan Hawke. But after an opening weekend in which it took $2.8m (€2.6m) — just behind A Spanish Affair's record breaking $3m (€2.8m) — audiences tailed off, likely put off by the film's weak critical reception and it finally grossed just $8.9m (€8.3m).
Yet with a crop of big Spanish films still to open in 2015 — including Universal's sequel to A Spanish Affair at the end of November and Fernando Gonzalez Molina's Palm Trees In The Snow in December — the year may still hold a happy ending for local titles.
The biggest international titles so far in 2015 are Working Title Films' Everest, which has taken $6.3m (€5.9m), French family comedy Serial (Bad) Weddings, which opened at the end of 2014 but has grossed $9.4m (€8.8m) in 2015, and another Working Title drama The Theory Of Everything, which took $5.1m (€4.8m) and is consistent with the film's strong performance across Europe.
Tables supplied by Rentrak