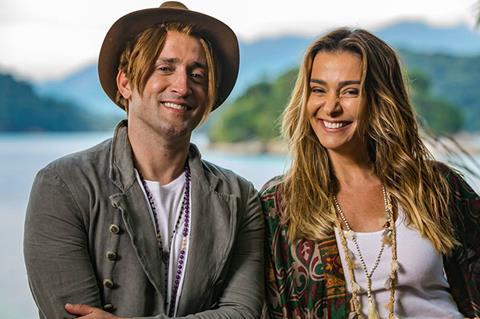 Brazilian cinema in 2019 held firm at 11% market share of overall box office as it did the previous year, while overall box office grew 13.7% to a record BRL 2.79bn ($684m).
Attendance grew year-on-year by 7.8% to 177.2m, according to online data specialist Filme B. While the overall box office boost can be explained in part by a 5.54% increase in the average ticket price, the figures do not necessarily mean that the Brazilian market grew in the last 12 months.
The performance of local cinema barely changed as the number of admissions to Brazilian films surpassed 24m as it did in 2018.
Brazilian cinema relied significantly on sequels and provided the three highest grossing local films of 2019. The only local production that broke into the overall top 10 was Susana Garcia's Minha Vida em Marte (pictured), which generated more than 4.4m ticket sales.
With a gross of BRL 67.6 m ($16.5m), the second instalment of the romantic adventures of a businesswoman in her 40s obsessed with marriage occupied ninth place among the highest grossing films of the year. It is the sequel to Marcus Baldini's Os Homens São de Marte… E É Pra Lá que Eu Vou, which opened in 2014 and drew 1.7m admissions and grossed BRL 21.7m ($5m).
The second highest grossing local film was Alexandre Avancini's Nada a Perder 2:, which grossed BRL 58m ($14.2m) last year. The biopic franchise of Edir Macedo, founder of the evangelical and controversial Universal Church of the Kingdom of God, is a sequel of Nada a Perder, which was the highest grossing Brazilian film in 2018 on BRL 120.9m ($29.6m).
In third place among Brazilian films was another sequel: Susana Garcia's Minha Mãe é uma Peça 3 (My Mom Is a Character 3). It is based on the play of the same name created and starred by the comedian Paulo Gustavo, who plays a middle-aged divorced woman.
The first film in the series about Dona Hermínia grossed BRL 49.5m ($12.1m) in 2013 and the second reached BRL 124.6m ($30.5m) in 2016.
Despite premiering on December 26, Minha Mãe é uma Peça 3 managed to be among the highest grossing Brazilian films of last year. It grossed BRL 40.3m ($9.8m) in six days in 2019, and has gone on to gross more than BRL 70m ($17.1m). In its first weekend, the local comedy outperformed Star Wars: The Rise Of Skywalker, selling 1.8million tickets, as opposed to 493,000 admissions by the Disney blockbuster.
Brazil top 10 at 2019 box office
Title / Distributor / Local currency / $USD
Avengers: Endgame / Disney / BRL 338.6m / ($82.9m)
The Lion King / Disney / BRL 265.8m / ($65.1m)
Joker / Warner Bros / BRL 158.1m / ($38.7m)
Captain Marvel / Disney / BRL 146.7m / ($35.9m)
Toy Story 4 / Disney / BRL 124.5m / ($30.5m)
Spider-Man: Far From Home / Sony / BRL 106.3m / ($26m)
Maleficent: Mistress Of Evil / Disney / RL 91.3m / ($22.3m)
Aladdin / Disney / BRL 80.1m / ($19.6m)
Minha Vida em Marte / Downtown Filmes / BRL 67.6m / ($16.5m)
Ralph Breaks The Internet / Disney / BRL 64.8m / ($15.8m)
Source: Filme B