Star Wars: The Force Awakens held onto the weekly crown - and has now crossed $100m - but was edged out over the weekend by the popular bears.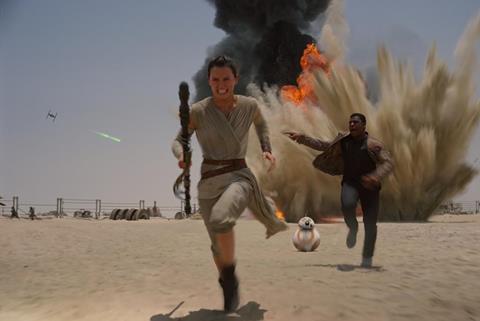 Star Wars: The Force Awakens retained the box office crown in China during the period Jan 11-17. It added $44.04m from its second week, bringing its gross to $97.46m after nine days. The film has subsequently crossed $100m.
But The Force Awakens was knocked off the daily top spot by new local animation Boonie Bears III when the latter opened on Saturday.
The 3D film, about the adventures of two bears, took $8.59m on its opening day, setting a new record for a domestically produced animated film. Boonie Bears III came in second overall with $16.18m from Saturday and Sunday and $20.07m including previews.
Produced and distributed by Shenzhen-based Fantawild Animation, the third instalment is based on the popular Boonie Bears TV series, which has already spawned two successful film adaptations. The previous two films, which came out in 2014 and 2015 respectively, were once the top two local animations of all time.
Local action comedy Detective Chin Tang continued to perform well and crossed the $100m milestone. It held third place in the charts with $13.94m in its third week, extending its gross to $111.87m after 18 days.
Beyond Boonie Bears, two more new local releases entered the weekly chart. Royal Treasure debuted in fourth place with $11.91m and The Secret opened in seventh place with $6.32m, both of which were from their three-day opening weekend.
Royal Treasure is based on popular variety show Go Fighting!, which sets its guests up in a race to complete tasks. The film follows the misadventure of the TV show's guests, including Sun Honglei, Huang Lei, Huang Bo and Show Lo, who are accidentally brought back in time to the Ming dynasty while shooting the TV show.
Meanwhile, Girls director Barbara Wong's The Secret is a supernatural drama about a dead woman who comes back as a ghost to live with her grieving husband. The cast includes Wang Luodan, Leon Lai, Sandrine Pinna and singer JJ Lin.
The weekly chart also comprised two new foreign titles. The Last Witch Hunter opened in fifth place with $9.54m from its first three days, while Solace launched in eighth place with $4.49m from its first four days.
Blockbusters Mr. Six dropped to sixth with $6.92m for $133.83m after 25 days and Mojin: The Lost Legend, already China's fourth highest-grossing film of all time, dropped to ninth and added $3.54m for $255.74m after 31 days.
Sherlock: The Abominable Bride rounded out the weekly chart with $2.87m for $23.74m after 14 days.
New releases set for this week include The Walk, Love In Late Autumn and local crime-thriller Inside Or Outside, which are all due out on Jan 22.