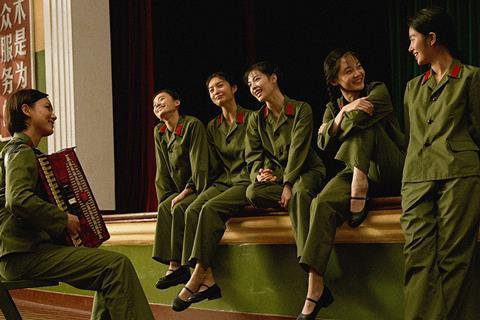 As 2017 drew to a close, a wide variety of Chinese tentpoles led the last week of the year (Dec 25-31). Feng Xiaogang's Youth, already in its third week, retained the overall No.1 position, while new release The Ex-File: The Return Of The Exes ruled the weekend.
With almost overwhelming praise from Chinese audiences, Youth delivered a hat trick and added $51.3m. The bittersweet coming-of-age drama was exceptionally resilient as it bounced back to the second place on Sunday after dropping to the fifth on Friday. After 17 days, it has amassed $169.5m, making it the eighth highest grossing film in 2017. It has also overtaken 2013's Personal Tailor to become Feng's top grossing film.
Local romantic comedy The Ex-File: The Return Of The Exes took the weekend but came in only second overall with $42m from its first three days. After opening in second on Friday behind Goldbuster, it climbed to No.1 on both Saturday and Sunday. The third installment of the popular Ex-File series has now outgrossed the final run of its two predecessors, all of which are by the same director Tian Yusheng. Han Geng and Zheng Kai return to head the cast.
Horror comedy Goldbuster ranked third overall with $35.8m from its three-day opening weekend, marking the directorial debut of Hong Kong actress Sandra Ng. Produced by Peter Chan and co-presented by Never Say Die's Fun Age Pictures, it opened promisingly on top on Friday but failed to sustain, dropping to second on Saturday and third on Sunday.
Chen Kaige's Tang dynasty-set fantasy romance Legend Of The Demon Cat slid from second to fourth place, taking $32.1m for $66.9m after 10 days and outperforming his 2015 summer release, Monk Comes Down The Mountain. The cast includes Huang Xuan, Shota Sometani and Kitty Zhang.
Local fantasy comedy Hanson And The Beast, starring The Continent's Feng Shaofeng and Liu Yifei (set to star in Disney's new Mulan) opened in fifth with $24.2m from its first three days. It was ahead of Han Jie's Chinese version of Japanese author Keigo Higashino's bestseller Miracles Of The Namiya General Store, which took $21.7m also after three days.
The rest were holdovers. Sci-fi thriller Bleeding Steel, the third film starring Jackie Chan this year, added $13.3m for $41.7m after 10 days, but was no match for his earlier two films Kung Fu Yoga and The Foreigner. It was followed by local crime thriller The Liquidator, with Deng Chao and Ethan Juan, which earned $9.8m for $30.5m after 10 days
The only non-Chinese titles were two animations. Coco added $7.6m for $164.6m after 38 days from an extended run, making it the second highest grossing animation ever, only after Zootopia and exceeding the combined box office of all Pixar's previous releases in China, while Paddington 2 took $1.3m for $28.3m after 24 days.
The Chinese tentpoles will meet their match this week when Star Wars: The Last Jedi opens this Friday, Jan 5.