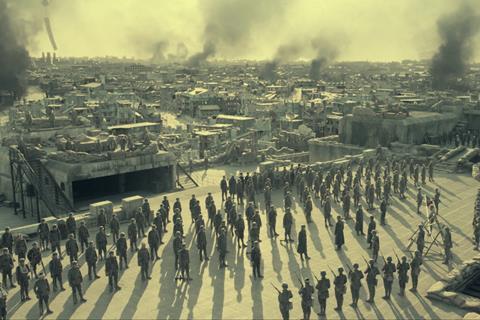 Christopher Nolan's Tenet has grossed $30m on its opening weekend in China (September 4-6), according to figures from Artisan Gateway, coming in second behind Guan Hu's The Eight Hundred, which took $32.3m in the same frame.
Tenet outgrossed The Eight Hundred on its opening day (Friday, September 4) with $9.11m, including previews, while Huayi Brothers' war epic grossed $8.3m on the same day. But the Warner Bros title slipped to second position on Saturday and has stayed there since. The Eight Hundred has grossed $352.4m since its August 21 release.
Online ticketing platform Maoyan forecasts Tenet will go on to gross $66.9m in China, while Nolan's Interstellar grossed $112m in 2014 and Dunkirk took $51m in 2017. The film has drawn mixed reviews with an 8.3 rating on Maoyan and 7.9 on the Douban platform, which attracts more cinema buffs.
The time-bending thriller, which was filmed with IMAX cameras, performed well on IMAX screens, grossing $5.3m from 649 sites, nearly 18% of the nationwide gross, despite IMAX theatres accounting for just 1% of screens.
Elsewhere in the weekend chart, local romantic drama Love You Forever came in third with $2.5m for a cumulative total of $70m. Japanese crime drama Masquerade Hotel came in fourth on its opening weekend with $1.4, followed by Disney's Onward with $1.1m for a cume of $7.9m.
Around 90% of Chinese cinemas have reopened since July 20, but all are continuing to operate at 50% capacity to comply with social distancing requirements. According to Artisan Gateway, combined weekend box office totalled $69.4m, while the year to date stands at $957.8m, down 85.6% compared to the same period the previous year.
Both The Eight Hundred and Tenet face stiff competition this weekend when Disney's live-action Mulan, starring Chinese actress Liu Yifei and based on a well-known Chinese legend, opens on September 11. China is expected to be one of the biggest theatrical territories for the film, which launched on premium VOD in the US and other select markets on September 4.
Mulan is also set to open theatrically in the much smaller Hong Kong market on September 17, where its performance may be affected by the #BoycottMulan movement, prompted by comments that Liu Yifei made on social media last year, during the pro-democracy protests, in support of the Hong Kong police.
Pro-democracy activists in Taiwan and Thailand, who together with their counterparts in Hong Kong form the 'Milk Tea Alliance', named after a popular soft drink, are also calling for a boycott of the film.