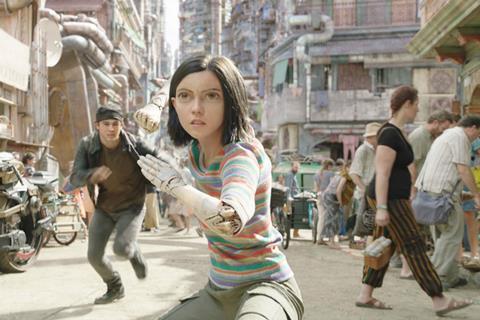 China sees plenty of action from Hollywood films this weekend when Fox International executives will be looking to Alita: Battle Angel to bring in a healthy second weekend.
Robert Rodriguez's cyborg action adventure stormed into China last weekend on $62m to become Fox's biggest ever launch in the month (February) when Chinese box office returned a record $1.6bn (RMB 10.75bn) overall.
Alita has amassed $223.3m internationally and appears to be the one to beat from Hollywood this session. Fox's quadruple Oscar winner Bohemian Rhapsody stands at $649.2m, and The Kid Who Would Be King an early $9.5m with a debut set for Peru, among several other smaller markets. Postwar drama The Aftermath starring Keira Knightley, Alexander Skarsgaard and Jason Clarke opens in the UK.
Returning to China, big things are expected of DreamWorks Animation's How To Train Your Dragon: The Hidden World when it swoops into the territory. 2014's How To Train Your Dragon 2 remains the biggest international performer in the trilogy so far on $444.5m (which adjusts for inflation to approximately $473.8m) and debuted in China on $26.3m ($27.8m) en route to $65.1m ($68.9m). Thus far the third instalment has amassed $225m through Universal Pictures International. The first episode finished on $277.3m ($320m).
Happy Death Day 2U stands at $22.6m and studio brass open it in a further 11 markets this weekend when the hope is the likes of Mexico, Russia, and Italy will help the horror release on its way towards the $69.8m final tally of late 2017 release Happy Death Day. Mary Queen Of Scots has grossed $24.8m and debuts in Franc and Singapore among several others.
Best picture Oscar winner Green Book opens in China through Amblin Partners on more than 17,500 screens, which is a little more than last season's best picture Oscar winner The Shape Of Water. The Civil Rights era road movie starring Viggo Mortensen and Oscar winner Mahershala Ali grossed $8.6m last weekend from 59 Lionsgate International and Amblin markets and by Sunday stood at approximately $74.4m.
The Lego Movie 2 has reached $54.8m through Warner Bros Pictures International, while Clint Eastwood's drug courier drama The Mule on $45.6m slips into Russia. Aquaman has reached $806.8m, A Star is Born $215m, and Creed II $97.1m.
Oscar-winning beast animated feature Spider-Man: Into The Spider-Verse has swung to $175.5m through Sony Pictures International, with horror release Escape Room on $63.9m ahead of debuts in France and Germany. Family title A Dog's Way Home opens in Australia and Brazil and has amassed $27.8m – $22.5m through Sony territories and $5.3m through China.
For Paramount Pictures International, Transformers spin-off Bumblebee stands at $332.4m, comedy Instant Family $39.8m, and comedy adaptation What Men Want an early $3m.
Walt Disney Studios Motion Pictures International executives report that Ralph Breaks The Internet has amassed $316.5m, which compares favourably to the $281.9m final tally of the 2012 original, which adjusts for inflation to $308.1m. Mary Poppins Returns stands at $174.7m, and Glass $133.5m.