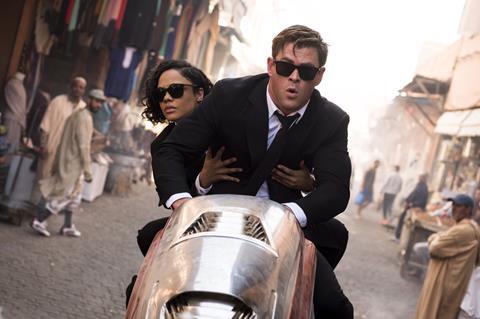 Men In Black: International arrived on an estimated $102.2m worldwide at the weekend, earning a reasonable $73.7m internationally to rank number one in 36 of 56 markets including China, Russia, Australia, and France.
The sci-fi action comedy is locked in a tussle with Aladdin for first place in the UK. Sony sources claim their film debuted on $3.4m, while Disney executives are calling a $3.42m session for Aladdin, which overall grossed $47.5m to reach $462.4m internationally.
Disney-Fox's ailing Dark Phoenix crossed $150m worldwide, and Warner Bros' Godzilla II: King Of The Monsters has scaled $245.8m internationally.
SONY PICTURES RELEASING INTERNATIONAL
Sony's return to the franchise it started 22 years ago with Will Smith and Tommy Lee Jones sees Chris Hemsworth and his Thor: Ragnarok co-star Tessa Thompson inherit the mantle as the alien-hunters in Men In Black: International. The fourth entry in the canon is trailing 2012's Men In Black 3 by 19% at current exchange rates for the same group of markets.
The international start will help Sony recoup, despite the spin-off's dismal North American launch – the studio shared the risk with co-financiers Tencent Pictures and Hemisphere Media Capital to limit its exposure to half of the approximately $100m production cost excluding P&A. In North America, the tentpole scored the lowest debut of the franchise on $28.5m.
Asia generated $45.5m as a region, on par with Men In Black 3, as China delivered a $26.3m number on launch, South Korea (distributed by Lotte) $4.9m, Japan $3.5m in second place, India $1.9m in second, Malaysia $1.6m in first, and Taiwan also $1.6m in first.
Latin America produced $8.3m, led by Mexico on a chart-topping $3.9m, and Brazil on $1.8m for number one. In a trio of European launches, Russia delivered $5.1m, the UK $3.4m, and France $2.5m, while Australia produced $2.6m for first place. Men In Black: International opens this week in Belgium and Netherlands, followed by Italy on July 25.
WALT DISNEY STUDIOS MOTION PICTURES INTERNATIONAL
Aladdin brought in $47.5m in its fourth weekend from 55 territories to reach $461.4m, and $724.8m worldwide. Another robust session ensured the fantasy adventure starring Will Smith and Mena Massoud stayed top in 20 markets, with China the lead on a $51.7m haul, then the UK on $38.3m following a $3.42m weekend, South Korea on $38.1m, Japan on $32.6m, Mexico on $29.6m, Spain on $20m, and Australia on $18.7m.
Aladdin dropped in Europe by 40%, and recorded a 32% decline in Latin America, and a 31% drop in the Asia-Pacific region.
Dark Phoenix grossed $24.2m internationally from 55 territories to reach $152.5m and $204.3m globally. The X-Men spin-off opened top in Indonesia on $3.5m (around 15% ahead of the X-Men: Apocalypse launch). China remains the top territory on $55.4m, while Mexico has generated $8.3m, France $7.7m, the UK $7.5m, and South Korea $6.3m. Avengers: Endgame stands at $1.912bn internationally and $2.742bn worldwide.
WARNER BROS PICTURES INTERNATIONAL
Godzilla II: King Of The Monsters used a $14.1m session in 79 markets to raise the international running total to $245.8m, and worldwide to $339.5m. China was the top performer in the tentpole's third session, delivering $5.2m in third place for $123.2m. Japan produced $2.1m for third to reach $20m after three weekends. After three weekends the monster mash-up stands at $9.3m in Mexico where it ranks fourth, $8.1m in the UK to rank fifth, and $4.8m in France. The action spectacle opens this week in Spain.
Pokemon Detective Pikachu grossed $3.4m from 72 for $279.5m international tally, and $420.3m worldwide. China remains the lead market by a mile on $93.4m, followed by Japan on $26m, the UK on $17.3m, Germany on $12.3m, and Mexico on $11.7m.
PARAMOUNT PICTURES INTERNATIONAL
Elton John biopic Rocketman brought in a $8.5m weekend as the tally climbed to an early $67m and the UK delivered $1.9m in the fourth session to reach $24.3m. Australia generated $1.5m for a solid $9.9m after three, and France $748,000 for $4.4m after two. Japan is the final market to launch on August 23.
UNIVERSAL PICTURES INTERNATIONAL
The Secret Life Of Pets 2 earned $8.5m from 36 for $62.5m internationally, rising to $154.6m worldwide. The animation opened top in Indonesia on $451,000 and added $1.8m in Russia for $20.5m after three weekends. The UK remains the lead market on $21m after four sessions.
Octavia Spencer horror Ma stands at $11.4m internationally and $51.7m worldwide, and has grossed $1.8m in the UK after three sessions, $1.77m in France after two, $1.5m in Germany after three, and $1m in Spain after two. Jim Jarmusch's zombie comedy The Dead Don't Die stands at an early $3.1m and opened in Germany on $301,000, and Italy on $266,000.