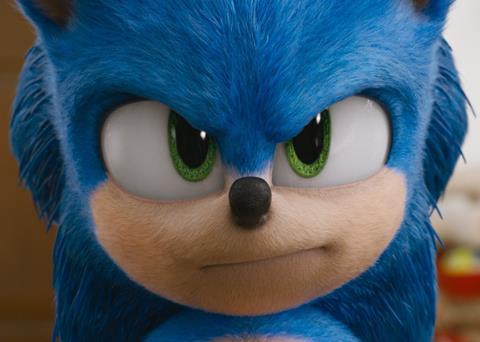 Paramount's Sonic The Hedgehog held on to the international box office crown after an estimated $26.8m haul secured primacy for the third weekend as the coronavirus continued to take a toll on cinema-going.

The spread of the virus has seen the studio delay Sonic's release in China, and Japan too remains undated. Results for several films suffered in South Korea, the world's fifth largest market where the recent Oscars success of Parasite had been expected to deliver a major fillip before the virus established the second highest fatality level of any country after China.
Universal's The Invisible Man opened this weekend on $1.08m, while 1917 fell to $720,000 in its second session through CJ/Smile. Disney has postponed the release of Pixar's Onward in the territory.
Disney / Fox's The Call Of The Wild managed an $800,000 debut in virus-afflicted Japan. As has been previously reported, most theatres in China remain closed. In Italy, which is grappling with the spread of the virus and blanket media coverage, roughly half of all cinemas are closed according to reports. Paramount has put on hold plans for the three-week production leg of Mission: Impossible 7 in Venice.
In more positive box office news, 1917 has overtaken the lifetime total of Bridget Jones's Diary in the UK through eOne to reach $56.3m after eight weekends, while Russian smash Lyod 2 (aka Ice 2) crossed $20m in its third weekend. The Gentlemen has crossed $100m worldwide through Miramax International partners.
PARAMOUNT PICTURES INTERNATIONAL
Sonic The Hedgehog now stands at $137.2m internationally and opened in six territories, led by Indonesia's table-topping $2m bow. In a pair of complementary number one debuts, Poland delivered $1.1m and Thailand $248,000.
France provided the top holdover in the third weekend as $2.9m elevated the tally to $13.2m, while the UK generated $2.4m for $22.3m, and Mexico produced $2.3m for $15.7m. Brazil, Germany, Australia and Spain have generated $8.3m, $7.7m, $6.1m, and $4.8m, respectively. After two sessions, Sonic stands at $10m in Russia and $1.6m in Belgium.
UNIVERSAL PICTURES INTERNATIONAL
MARCH 2 UPDATE: Universal and Blumhouse's monster film remake The Invisible Man starring Elisabeth Moss and directed by Leigh Whannell opened to $20.1m in 47 territories, a mighty performance by a horror film that complemented the $28.2m number one North American launch.
The film, which reportedly cost $7m to produce in true fashion for Blumhouse's low-cost high-profit model, opened in the UK on $2.8m in second place behind Sonic The Hedgehog. France delivered $2.3m in fourth place, Mexico $1.8m in second, and Germany in third on $1.2m.
In a trio of number one launches, Australia, Spain and South Korea produced $1.7m, $1.097m, and $1.092m. Despite the latter country's medical emergency, The Invisible Man has become only the second foreign film to open top in South Korea so far this year after Dolittle. The Invisible Man opens in Russia this week.
Dolittle grossed $6.3m for $141.4m, and $7.3m globally for $217.4m. Russia was the top performer, adding $1.7m for $7.8m after two weekends. France added $1.2m for $8.9m, and the UK $1.1m for $19.7m, both after four sessions.
1917 added $5.3m through all distributors for a $206.5m running total, and added $1.7m via Universal to reach $61.7m. Sam Mendes' First World War thriller has reached $16.5m in France after seven weekends. Period drama Emma added $1.5m for an early $11.4m international running total, which climbs to $12.9m worldwide following a $2.7m session.
WARNER BROS PICTURES INTERNATIONAL
MARCH 2 UPDATE: R-rated comic-book spin-off Birds Of Prey grossed $4.7m from 78 markets to reach $109.8m and the worldwide total stands at $188.6m. Lead markets are the UK on $10.9m, Mexico on $10.7m, France on $7.9m, Russia on $6.9m, and Brazil on $6.8m.
Richard Jewell added $1.7m from for $19.5m, and stands at $41.9m worldwide with France the highlight following a $1.5m hold that pushed the tally to $4.4m after two sessions. Just Mercy used a $1.5m session from 41 to reach $12.7m, and $48.4m globally. France is the top market on $2.3m.
WALT DISNEY STUDIOS MOTION PICTURES INTERNATIONAL
MARCH 2 UPDATE: 20th Century Studios' The Call Of The Wild brought in a further $24.6m globally in its second weekend, raising the worldwide tally to $79.7m. The adventure film starring Harrison Ford added $11.5m for $33.8m internationally. The lead market is France on $6.1m, followed by the UK and Mexico on $3m apiece, Russia on $2.7m, and Spain on $2m. The adventure film opened in Japan on $800,000. Searchlight Pictures' Jojo Rabbit has amassed $55.1m.
MIRAMAX INTERNATIONAL
The Gentlemen has crossed $100m worldwide, of which $66.7m comes from international markets following an $8.5m session. CIS added $2.8m through Volga and ranks as the lead market on $17.9m after three weekends. The crime caper has become the highest-grossing non-sequel independent imported film of all time there and had surpassed lifetime grosses of Murder On The Orient Express, Star Wars: The Last Jedi and every James Bond film in local currency terms.
The UK has generated $15.6m through Entertainment, Australia $10m via Roadshow, and France $4.2m via SND. Germany led the new markets on $1m. The Gentlemen opened in South Korea on $330,000 through Contents Gate.
SONY PICTURES RELEASING INTERNATIONAL
MARCH 2 UPDATE: Bad Boys For Life has crossed $400m worldwide after a $5.1m international weekend boosted the tally to $208.6m, and the global score to $406m. The UK leads the way on $20.5m, followed by Germany on $17.3m, France on $14.5m, Australia on $12.7m, and Mexico on $12.5m.
After 10 weekends in release, Little Women added $1.7m for a $95.3m international running total as the worldwide tally reached $203m. The period drama's top market remains the UK by some margin on $28.3m. Next is Australia on $10.7m, then Italy on $6.6m, France on $5.9m, and South Korea on $5.5m.
Russian smash Lyod 2 (aka Ice 2) brought in a further $2.2m for $21.5m after three weekends, while Blumhouse's Fantasy Island added $1.9m from 41 markets for $16.4m.
AMBLIN PARTNERS
1917 added $3.6m for $144.8m through the Amblin Partners network. The UK delivered $788,000 via eOne for $56.3m after eight weekends and has now overtaken the lifetime total of Bridget Jones's Diary.
South Korea delivered $720,000 in the second weekend for a $3.3m tally through CJ/Smile, while after eight weekends Australia, Spain and Netherlands have produced $15.4m, $10.6m, and $10.5m, respectively, through eOne. Italy has produced $7.3m through Leone after six sessions. Environmental thriller Dark Waters grossed $1.1m for $2.6m and stands at $1m in the UK via eOne.