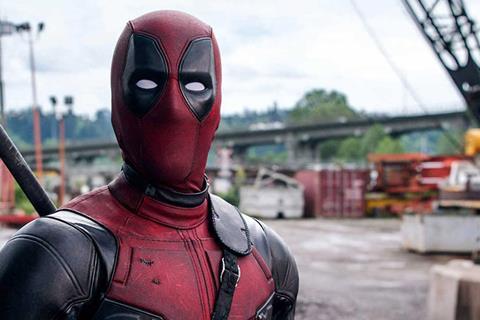 After the lacklustre debut by Solo: A Star Wars Story last weekend there is a real chance that Deadpool 2 can reclaim the international title and sit atop the Hollywood pile.
Lucasfilm's latest tentpole stands at $82.3m heading into its second session and most observers will be surprised by such a low number after the pre-release excitement last week.
It is likely that Solo will have crossed $200m worldwide on Thursday (May 31), by which date the official had reached $197.5m. Launches this weekend in Croatia and Trinidad will do little to add fresh momentum to Lucasfilm's struggling release.
Marvel Studios' Avengers: Infinity War has been magnificent – one of only seven films in history to cross $1bn internationally – although is slowing down at $1.295bn.
Solo's performance paves the way for Deadpool 2 to jump back into pole position. By Thursday Fox International's R-rated hit had raced to $293.2m and opens in Japan in its third session.
That territory was one of the chief drivers for the original on $18.9m. If the superhero saga strikes the right note there, Japan will fuel the remaining weeks as Deadpool 2 stays on course to overtake the 2016's original's $420m final international tally.
Jennifer Lawrence spy thriller Red Sparrow opens in Russia and the studio will expect a decent return there given the provenance of the lead character. It stands at $102m. The Brazilian remake of smash hit Mexican comedy Instructions Not Included debuts in Brazil.
Wes Anderson's Isle Of Dogs on $27.7m arrives in Malaysia, Taiwan and Colombia, among others. Gay rom-com Love, Simon on $16.9m opens in Italy.
Peter Rabbit has grossed $227.9m through Sony Pictures Releasing International
STXinternational launches Shailene Woodley survival drama Adrift day-and-date with North America in several territories including Scandinavia via Svensk, Singapore through Golden Village, and Turkey through Aqua.
Paramount Pictures International's family animation Sherlock Gnomes stands at $36.2m, and horror-thriller A Quiet Place $133.6m.
From the Warner Bros Pictures International stable Rampage has amassed $320.4m, Life Of The Party $8m, Game Night $48.1m, and Ready Player One $443.8m.