FEB 22 UPDATE: Deadpool is in rude health as it topped the worldwide box office and used 74 markets to propel the running total to $256.2m after the second weekend.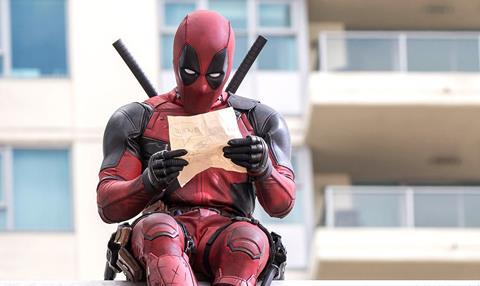 FOX INTERNATIONAL
UPDATED: The $84.7m international take combined with a $235.4m North American number one hold to put the film on $493.1m globally.
Seventeen debuts delivered number one results led by South Korea on $11.9m for the biggest 18+ launch, $3.9m in Spain, $3.4m in Italy, and $1.9m in UAE for the biggest R-rated release.
Deadpool stayed top in 45 of its holdover markets including $8.1m for $37m in the UK, $5.5m for $19m in Australia, and $4.9m for $14.1m in Germany.
The film ranks number two in France, where $5.4m boosted the tally to $16.5m. Brazil delivered $4m for $12.5m and a number one ranking, while Mexico generated $3.4m for $13.3m and second place.
Alvin And The Chipmunks: The Road Chip added $11.4m from 61 markets for $130.8m, The Revenant plundered $8.6m from 65 for $216.4m, DreamWorks Animation's Kung Fu Panda 3 $7.3m from seven for a remarkable $177.1m including $137m from China via Oriental DreamWorks, and The Martian $2.4m from six for $391.7m.
Neerja from Fox International Productions and Fox Star took $4.7m from India and the UK, opening top in India on $4.5m.
ASIA UPDATE
Stephen Chow's The Mermaid added $56m in China to scale $420m. On Friday the film from Beijing Enlight Pictures and China Film Group overtook the $374m scored by Monster Hunt to become the biggest release in China.
The Monkey King 2 grossed $13m for a $157m running total ,while From Vegas To Macau III added $9.5m for $156m, and Crouching Tiger, Hidden Dragon: Sword Of Destiny grossed $21m.
WALT DISNEY STUDIOS MOTION PICTURES INTERNATIONAL
Zootopia added $31.2m ahead of the North American debut on March 4 and the animation has reached an early $39m from 22 territories after two sessions. France has produced $9.2m, Spain $5.8m, and Mexico $4.5m. The family film arrives this week in China, Germany, and Russia.
Stars Wars: The Force Awakens has reached $1.118bn internationally and $2.039bn worldwide.
WARNER BROS PICTURES INTERNATIONAL
UPDATED: Comedy How To Be Single grossed $10.9m from 51 territories to climb to $24.1m, spurred on by a $2.7m UK debut including previews and a $2.3m Australian launch including ladies night previews.
PARAMOUNT PICTURES INTERNATIONAL
UPDATED: Zoolander 2 added $4.5m from 32 markets to reach $16.7m and the comedy arrived in Germany on $393,000. A further $1.1m in the UK boosted the tally to $5.8m, while Australia and Italy stand at $4m and $2.2m, respectively.
Daddy's Home stands at $86.6m. The Big Short $54.2m, and 13 Hours $5m.
UNIVERSAL PICTURES INTERNATIONAL
UPDATED: Berlinale opener Hail, Caesar! debuted in 27 markets and generated $5.7m, led by France on $2m and Germany on $1m.
SONY PICTURES RELEASING INTERNATIONAL
UPDATED: The comedy Goosebumps grossed $3.2m from 16 for $73.4m, while The 5th Wave stands at $68.6m and Concussion $9.6m.
LIONSGATE INTERNATIONAL
Point Break crossed $100m from 35 territories as a further $2.6m saw the thriller reach $100.2m. The film opened in Japan on $1.3m via Warner Bros and has takwn $39.4m in China.
FILMNATION
Room added $849,594 from 23 territories and stands at $8.3m. Universal territories account for $1.2m.
STUDIOCANAL UK
A Bigger Splash added $311,621 in its second weekend for $1.1m.
Room grossed $102,757 in its sixth session to stand at $4.9m. Youth has reached $1.1m after four weekends.