Marvel Studios' latest adaptation starring Benedict Cumberbatch will almost certainly usurp Jack Reacher: Never Go Back when it launches via Walt Disney Studios Motion Pictures International this weekend.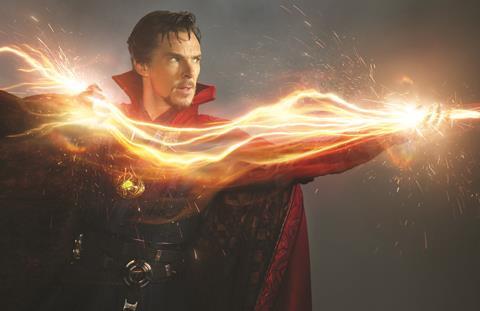 Opening one week ahead of North America, Doctor Strange is scheduled to arrive in the UK, Australia, France, Germany, Mexico, Italy and South Korea.
There are also debuts for Scott Derrickson's comic book adaptation across parts of Scandinavia, the Netherlands, Belgium, Hong Kong, Singapore, Malaysia, Thailand and Switzerland.
Meanwhile Disney stablemates Finding Dory from Pixar stands at $533.2m and Pete's Dragon has reached $63.6m.
Paramount Pictures International's Jack Reacher: Never Go Back has grossed $41.5m and dominated last weekend.
The Tom Cruise action sequel is expected to deliver a solid second session that should see it comfortably past the $50m mark – but thoughts of a second weekend at the top are hopeful at best in the face of the Marvel Studios onslaught.
Meanwhile Inferno crossed $100m earlier this week and is perched on $103.6m heading into its second session through Sony Pictures Releasing International.
The Magnificent Seven has reached $67m including MGM markets, while Don't Breathe stands at $62m and Sausage Party $38.5m.
Ben-Hur stands at $64.9m and Star Trek Beyond $182m.
Dreamworks Animation's Trolls, opens in a further 25 territories via Fox International following last weekend's launch.
Highlights are expected from Brazil, Italy, Russia, Spain, Sweden, Colombia and Argentina. The animation has grossed $27.3m and lands in North America next weekend.
Ae Dil Hai Mushkil will debut in India and the UK. Miss Peregrine's Home For Peculiar Children has amassed $154m.
Universal Pictures International executives reported that Ouija 2 has reached an early $10.6m, while The Girl On The Train stands at $2.7m, Bridget Jones's Baby $145.4m, Secret Life Of Pets $499.6m, Kubo And The Two Strings $19.3m, and American Honey $750k.
Ben Affleck crime drama The Accountant infiltrates Italy and Russia and has grossed an $12.6m from the early stages of its roll-out through Warner Bros Pictures International.
Sully has amassed $47.5m, while the animation Storks stands at $87.8m as it prepares to land in Germany.