JULY 24 UPDATE: Joy for Christopher Nolan and Warner Bros, while EuropaCorp's $150m sci-fi tentpole implodes. Uni's Girls Trip in strong number two debut.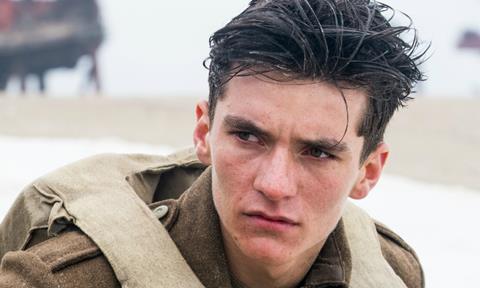 Christopher Nolan's Second World War film exceeded expectations to score an unusually high debut for a war film and combined with the $55.4m international opening salvo for $105.9m worldwide.
Dunkirk debuted on $50.5m from 3,720 theatres and stars a young, relatively unknown cast of Fionn Whitehead, Barry Keoghan, and Jack Lowden alongside established stars like Tom Hardy, Kenneth Branagh, Cillian Murphy, James D'Arcy, and Mark Rylance.
The film's net budget reportedly came to $100m and Warner Bros executives will expect their acclaimed film – which pundits have already hailed as an awards season hopeful – to hold well both in North America and internationally in order to recoup.
Universal scored with its female comedy Girls Trip, which arrived in second place on a mighty $31.2m from 2,591 – especially strong given the $19m production tag. Jada Pinkett-Smith, Queen Latifah, Regina Hall, and Larenz Tate star.
There was bad news for EuropaCorp's Valerian And The City Of A Thousand Planets, the passion project from Luc Besson that opened at number five in North America on $17m from 3,553 sites via its three-year distribution deal with STX.
While sources stressed the film came in at a net cost of $150m and emphasised EuropaCorp's limited exposure after international pre-sales, equity and tax subsidies, the launch portends mountainous challenges ahead.
The weak debut has all but killed the film's North American theatrical prospects and will do little to inspire the international roll-market, where Valerian took $6.5m at the weekend. Many buyers paid high asking prices for rights and a dismal box office performance will make them even more averse to take a risk on future independent bets.
It is understood STX did not contribute to the marketing spend in North America. Dane DeHaan and Cara Delevingne, Clive Owen, Ethan Hawke and Rihanna star.
Sony-Marvel's Spider-Man: Homecoming dropped one slot to third and stands at $251.9m after three weekends, while in is second session Fox's War For The Planet Of The Apes tumbled 62.9% and three places to number four on $20.9m for $98.2m.
Edgar Wright's Baby Driver remains on course to cross $100m in North America and ranks seventh on $84.2m after four weekends through TriStar. Amazon Studios' The Big Sick stands at $24.5m after five sessions through Lionsgate and ranks eighth.
In limited release, Amazon Studio's Sundance acquisition Landline opened through Magnolia at number 34 on $52,555 in four theatres. Klaus Härö's Finnish drama The Fencer arrived via CF Releasing at number 55 on $5,572 from two. The Little Film Company handles international sales.
Top 12 generated $176m, up 11.3% on last weekend but down 4.1% on the equivalent session in 2016, when Star Trek Beyond opened top on $59.3m.
This week's wide releases are Focus Features' Charlize Theron action film Atomic Blonde, and The Emoji Movie through Sony.
Confirmed top 10 North America July 21-23, 2017
Film (Dist) / Conf wkd gross / Conf total to date

1 (-) Dunkirk (Warner Bros) Warner Bros Pictures International $50.5m –
2 (-) Girls Trip (Universal) Universal Pictures International $31.2m –
3 (2) Spider-Man: Homecoming (Sony) Sony Pictures Releasing International $22.2m $251.9m
4 (1) War For The Planet Of The Apes (Fox) Fox International $20.9m $98.2m
5 (-) Valerian And The City Of A Thousand Planets (STX Entertainment) EuropaCorp $17m –
6 (3) Despicable Me 3 (Universal) Universal Pictures International $13m $213.6m
7 (4) Baby Driver (Sony) Sony Pictures Releasing International $6.1m $84.3m
8 (5) The Big Sick (Amazon-Lionsgate) $5m $24.5m
9 (6) Wonder Woman (Warner Bros) Warner Bros Pictures International $4.6m $389m
10 (7) Wish Upon (Broad Green) $2.5m $10.5m