Ridley Scott's biblical epic Exodus: Gods And Kings is ready to ride out in the US.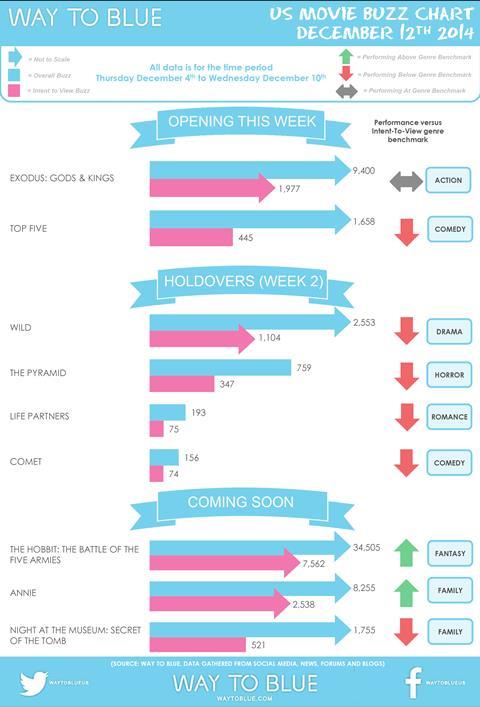 Exodus: Gods And Kings is poised to burst onto US screens through Fox with 9,400 mentions and 1,977 Intent-to-View (ITV) mentions, according to tracking and social analytics specialist Way To Blue.
Also releasing this week is Chris Rock's Toronto hit Top Five via Paramount on 1,658 mentions and 445 ITV mentions.
Of the films moving into the second week of their release, Golden Globe nominee Reese Witherspoon's Wild leads the holdovers in terms of buzz once again with 2,553 mentions and 1,104 ITV mentions. Fox Searchlight distributes.
Also moving into the second week of release is Fox's horror film The Pyramid, which has 759 mentions and 347 ITV mentions, as well as rom-com Life Partners through Magnolia Pictures with 193 mentions and 75 ITV mentions.

Next week US film-goers enter Middle Earth for one last time, as Warner Bros unleashes The Hobbit: The Battle Of The Five Armies across the country.
The final instalment in Warner Bros-New Line-MGM's JRR Tolkien franchise is poised to cap off Peter Jackson's series in style with 34,505 mentions and 7,562 ITV mentions.

Also releasing next week is Golden Globe-nominated musical Annie via Sony — the musical has 8,255 mentions and 2,538 ITV mentions — and Fox's family adventure Night At The Museum: Secret Of The Tomb, which has 1,755 mentions and 521 ITV mentions.
Click here for an explanation of Way To Blue's buzz charts.