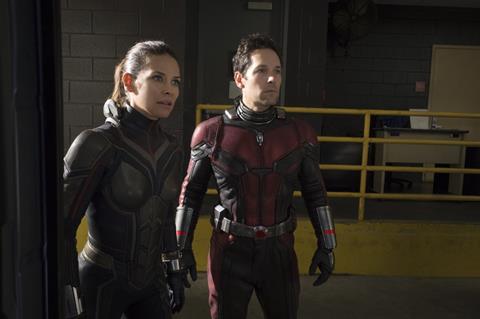 JULY 6: Universal Pictures on Friday confirmed that Jurassic World: Fallen Kingdom crossed $1bn worldwide on Thursday as it became the studio's seventh film to accomplish the feat.
As of Friday the tentpole stood at $700.7m at the international box office and $304.8m from North America. The Jurassic franchise has amassed $4.7bn, and is one of three Universal franchises including The Fast And The Furious and Despicable Me/Minions to have two films cross the $1bn threshold. Disney is the only other studio to have achieved this.
Top markets include China on $245.2m, the UK on $47m, South Korea on $45.8m, Mexico on $26.4m, France on $24.6m, Germany on $23m, Spain on $22m, and Taiwan on $20m. Fallen Kingdom opens in the final market Japan on July 13.
However the dinosaurs are slowing down and may be no match for Marvel Studios' Ant-Man And The Wasp, which launches in roughly 48% of the international marketplace day-and-date with North America, where it is forecast to gross $70m-$85m and some $35m on Friday including $11m in previews.
The 20th Marvel Cinematic Universe release began its assault a couple of days ago in South Korea (July 4), a vote of confidence after the original finished third overall in the Asian territory on $20.9m, or $22.1m when adjusted for inflation.
Targetting 2015 release Ant-Man's $339.1m final international gross, which amounts to roughly $358m in real terms, the sequel starring Paul Rudd and Evangeline Lilly also opened on July 4 in Spain (Ant-Man opened there on $912,543 and grossed $4.1m, adjusted for inflation to $950,000 and $4.3m), Taiwan ($2.9m opening weekend and $11.1m final gross / inflation-adjusted to $3.1m and $11.7m), and Malaysia ($2.6m $6.7m / $2.7m $7.1m).
It also ventures into Sweden – who are in action against England in the World Cup quarter-finals on Saturday – as well as Singapore, Hong Kong, Philippines, Thailand, Norway, and Denmark.
Thursday July 5 sees debuts in Australia (Ant-Man $3.9m opening $10.9m final / inflation-adjusted $4.1m $11.5m), Mexico ($5.3m $15.1m / $5.6m $15.9m), and Argentina, Colombia, and Chile, among others. The superhero saga will provide some diversion for audiences in Brazil ($3.9m $12.4m / $4.1m $13.1m), and World Cup tournament hosts Russia ($4.7m $11.5m / $4.9m $12.2m), whose teams are in action against Belgium on Friday, and against Croatia on Saturday, respectively.
On Friday Ant-Man And The Wasp enters Vietnam, Venezuela, and Ecuador. Upcoming releases include France on July 18, Germany on July 26, the UK on August 3, Italy on August 14, and Japan on August 31.
The cast includes Michael Peña, Michael Douglas, Michelle Pfeiffer, and Laurence Fishburne. Payton Reed directs and Marvel Studios chief Kevin Feige and Stephen Broussard are the producers. The storyline finds Scott Lang struggling to achieve a satisfactory work-life balance when he teams up with Hope van Dyne AKA The Wasp on a mission to uncover secrets from the past.
Universal Pictures International launches The First Purge, the latest entry in the anarchic horror franchise from Blumhouse Productions, Platinum Dunes and Perfect World Pictures, day-and-date with North America in around 30 territories. The series will not challenge Ant-Man And The Wasp (2016 instament The Purge: Election Year finished on $39.4m), however launches could pack a counter-programming punch in the UK, Germany, France, Italy, Spain, and Argentina. Another Blumhouse title, Truth Or Dare, stands at $52.2m.
Female ensemble heist caper Ocean's 8 has reached $102.2m through Warner Bros Pictures International and ventures into Spain on July 6. Meanwhile the ensemble comedy Tag has reached an early $9.4m and opens in Italy on July 5, while Melissa McCarthy comedy Life Of The Party on $10.6m arrives in Germany on July 5.
Hotel Transylvania 3: Summer Vacation has grossed an early $4m via Sony Pictures Releasing International from its only active market of Australia. The animation debuts in North America on July 13.
Paramount Pictures International executives report that animation Sherlock Gnomes stands at $45m, and horror breakout A Quiet Place $143.4m.