NOVEMBER 21 UPDATE: Just as Warner Bros' fantasy adventure smothered the international market, so it dominated the North American competition.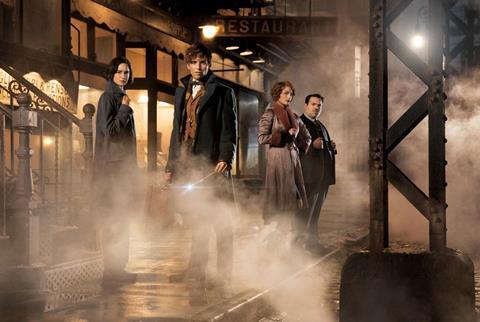 With Marvel Studios' Doctor Strange heading into its third weekend, there was no threat to Fantastic Beasts And Where To Find Them and it arrived on a confirmed $74.4m from 4,144 theatres, of which $8m came from 388 IMAX screens.
While this in fact delivered the lowest opening weekend in the nine-strong Wizarding World series, allowances must be made for the new characters and setting.
Following an encouraging launch for a film that reportedly cost $180m to produce before marketing costs are factored in, all eyes will be on the second-weekend hold. Including the $145.5m international launch, the worldwide haul has already reached $219.9m.
Studio executives plan another four instalments. Eddie Redmayne stars in the pre-Harry Potter tale and director David Yates, who helmed the final four Harry Potter episodes, will direct every entry in the Fantastic Beasts series.
Roadside Attractions launched Amazon Studios' awards heavyweight Manchester By The Sea extremely well on $256,498 from four venues at number 21.
The $64,125 per-screen average was the highest in Roadside's 13-year history. Kenneth Lonergan wrote and directed the family drama starring Affleck and Michelle Williams.
STX Entertainment debuted Hailee Steinfeld teen drama The Edge Of Seventeen in seventh place on $4.8m from 1,945 sites, followed in eighth by Open Road's new boxing drama Bleed For This starring Miles Teller and Aaron Eckhart on $2.4m from 1,549.
Doctor Strange dropped 58.7% to number two on $17.8m for $181.6m after three weekends and has overtaken Marvel Cinematic Universe stablemates Thor ($181m), Ant-Man ($180m), Captain America: The First Avenger ($177m), and The Incredible Hulk ($135m). Worldwide box office stands at $571.5m worldwide.
DreamWorks Animation's Trolls ranks third through Fox on $116.2m after three sessions, while independently financed sci-fi Amy Adams starrer Arrival ranks fourth via North American distributor Paramount following a 49.6% drop in its second weekend and stands at a commendable $43.7m.
Mel Gibson's Hacksaw Ridge starring Andrew Garfield, another independent heavyweight in the top ten that Lionsgate distributes in the US, ranks sixth on $42.8m after three.
Both Arrival and Hacksaw Ridge are awards contenders this season, as is Tom Ford's wild revenge tale Nocturnal Animals, which debuted via Focus Features at number 18 on $492,648 from 37 venues. Adams also stars in this, alongside Jake Gyllenhaal, Michael Shannon and Aaron Taylor-Johnson.
Well Go USA released Chinese comedy I Am Not Madame Bovary at number 27 on $181,552 from 38.
Warner Bros' Fantastic Beasts drove the top 12 to a $149.2m combined box office, marking a fractional drop on last weekend and an 11.7% drop against the comparable session in 2015, when The Hunger Games: Mockingjay – Part 2 debuted top on $102.7m.
This week's wide releases are: the animation Moana through Buena Vista; Paramount's wartime thriller Allied starring Brad Pitt and Marion Cotillard; Bad Santa 2 starring Billy Bob Thornton through Broad Green Pictures; and Warren Beatty's period Hollywood drama Rules Don't Apply through Fox.
Confirmed top 10 North America November 18-20, 2016
Film (Dist) / Conf wkd gross / Conf total to date
1 (-) Fantastic Beasts And Where To Find Them (Warner Bros) Warner Bros Pictures International $74.4m –
2 (1) Doctor Strange (Buena Vista) Walt Disney Studios Motion Pictures International $17.8m $181.6m
3 (2) Trolls (Fox) Fox International $17.4m $116.2m
4 (3) Arrival (Paramount) FilmNation $12.1m $43.7m
5 (4) Almost Christmas (Universal) Universal Pictures International $7.3m $25.6m
6 (5) Hacksaw Ridge (Lionsgate) IM Global $6.7m $42.8m
7 (-) The Edge Of Seventeen (STX Entertainment) STX / SPRI $4.8m –
8 (-) Bleed For This (Open Road) Open Road International $2.4m –
9 (6) The Accountant (Warner Bros) Warner Bros Pictures International $2.2m $81.3m
10 (7) Shut In (EuropaCorp) EuropaCorp $1.6m $6m