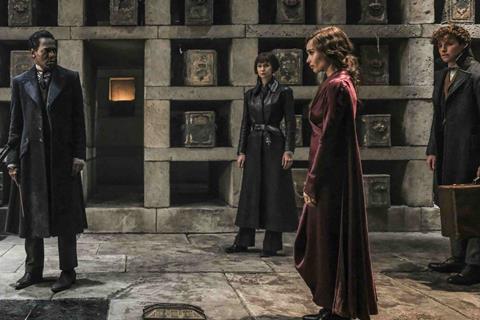 NOVEMBER 26 UPDATE: Fantastic Beasts: The Crimes Of Grindelwald remains the global box office champion for the second consecutive weekend as the fantasy soared past $400m worldwide and $300m internationally.
Disney's Ralph Breaks The Internet debuted on $126m worldwide, while Bohemian Rhapsody crossed $300m internationally, Venom breached $800m worldwide, and Universal's Johnny English Strikes Again has become the biggest international hit of the action comedy franchise.
WARNER BROS PICTURES INTERNATIONAL
UPDATED: Fantastic Beasts: The Crimes Of Grindelwald added a muscular $83.3m from 80 markets to reach $322.2m internationally and rank number one in 32 holdover markets. The global haul stands at $439.2m.
Japan delivered a $13m (¥1.5bn) debut on 1,008 screens to open on par with 2016's Fantastic Beasts And Where To Find Them, which opened over five days, and score Warner Bros' biggest debut of the year-to-date.
Overall the film is tracking roughly on par with the original in the same markets at the same stage of release, and is roughly 3% ahead in the EMEA region where it is the top film, and on par with Latin America, where it ranks second.
In two number one holds, Germany delivered $7.5m (€6.5m) after a 37% drop for $23.2m (€20.5m) to claim 62% market share of the top five releases. The UK produced $7.2m (£5.6m) for $28.3m (£22m) and 42% share.
Grindelwald added $6.4m (RMB 44.5m) in the lead market of China for $51.9m (RMB 361.2m) after two sessions and ranks fifth in the territory. In a string of second weekend number holds, the film grossed $6.3m (€5.6m) in France for $19.8m (€17.5m), $3.1m (€2.7m) in Italy for $11.9m (€10.5m), $3.1m (A$4.2m) in Australia for $11.5m (A$15.9m), and $2.2m (Rs 8.3m) in Brazil for $11.4m (Rs 42.6m).
Russia generated $4.4m (Rbl 288m) for second place and stands at $19.5m (Rbl 1.3bn), while South Korea's $3.2m (KRW 3.6bn) in third place pushed the running total to $16.6m (KRW 18.8bn), a further $2m (€1.7m) in second place in Spain raised the tally to $7.8m (€6.9m), and $1.9m (Ps 38.7m) in second place in Mexico means the fantasy tentpole stands at $11.2m (Ps 226.1m). Grindelwald generated an estimated $8.4m worldwide on IMAX as the running total vaulted to $34.2m. Internationally a further $4.4m boosted the tally to $19.9m.
A Star Is Born crossed $350m worldwide to reach $354.3m, as $4.4m from 64 markets boosted the international haul to $163.3m. The UK remains the lead market for the Bradley Cooper and Lady Gaga romance on $36.5m after eight weekends, followed by Australia on $20.5m after six. Elsewhere, France has generated $14.5m, Germany $9.1m, Italy $7.8m, and Brazil $6.5m.
Smallfoot added $1.9m from 50 for $130.2m, and $212.1m worldwide. The lead market is the UK on $14.3m, followed by France on $11.8m, China on $10.8m, Russia $9.8m, and Mexico $9.3m.
WALT DISNEY STUDIOS MOTION PICTURES INTERNATIONAL
UPDATED: Ralph Breaks The Internet debuted in 18 territories on $42.3m and combined with the North American Thanksgiving holiday launch for $97.2m worldwide, rising to $126m including five days in North America. The animation sequel was big in China, where it debuted on $19.5m to score the third biggest Disney Animation / Pixar debut and has already outstripped the final gross of Wreck-It Ralph.
Mexico delivered $6.2m for number one and the top debut for a Disney Animation release, while Russia produced $6.1m for number one and the second highest Disney Animation / Pixar launch. Indonesia generated $1.3m for the highest opening weekend by a Disney Animation release, while there were number two all-time debuts for the company in India, Malaysia, and the Philippines, where it debuted on $1.3m. Ralph arrives in the UK this week.
FOX INTERNATIONAL
UPDATED: Bohemian Rhapsody crossed $300m as $38.2m from 75 markets pushed the international running total for the Queen and Freddie Mercury drama to $320.3m. The film remains in good voice in its key markets. South Korea climbed 80% over opening weekend to add $8.6m for $36.2m after four, while Japanese audiences rewarded the film with a $3.5m hold for $20.7m after three. France produced $2.9m for $23.4m after four, while the UK generated $2.9m for $50.7m after five.
In the fourth session, Bohemian Rhapsody grossed $2.4m for $20.4m in Australia, $2.3m for $17.2m in Germany, $1.9m for $16.5m in Spain, $1.2m for $7.4m in Holland, $1.1m for $17.9m in Mexico, $1.1m for $10.4m in Brazil, and $985,165 for $13.9m in Russia.
Steve McQueen's heist drama Widows added $4.4m from 35 for $12.8m, sparked by a $791,287 number five debut in Australia, and a $586,762 number four launch in Russia. McQueen's home turf the UK has returned $6.8m after three weekends.
CHINA UPDATE
Emperor Motion Pictures' A Cool Fish, a caper with social commentary, added $25.1m to send the international running total to $49.7m. Rao Xiaozhi directed. A Fool actor Chen Jianbin is the lead as former police officer who now works as a security guard who must find the people who kidnapped his paralysed sister.
SONY PICTURES RELEASING INTERNATIONAL
UPDATED: Venom surged past $800m worldwide to reach $822.5m and rank as the second highest superhero origins film. A $21.2m haul from 63 markets saw the international running total shoot up to $610.3m. China is the runaway top market on $241.6m, followed by Russia on $32.6m, South Korea on $30.2m, the UK on $26.3m, and Mexico on $24.3m.
The Girl In The Spider's Web presented by presented by Columbia Pictures / MGM / New Regency added $2.6m from 51 for $16.8m.
UNIVERSAL PICTURES INTERNATIONAL
UPDATED: Rowan Atkinson action comedy vehicle Johnny English Strikes Again has become the biggest hit internationally in the franchise after $12.4m from 27 active territories boosted the running total to $138.6m from 68 overall. An $11.4m debut in China delivered the territory highlight and ranked fourth. Germany has delivered $8.3m after six sessions, and the worldwide haul stands at $142.9m.
The Grinch grossed $8.2m from 34 for an early $35.9m and stands at $216.6m worldwide. The children's film opened in 11 markets led by Portugal on $319,000 in second place, and Argentina on $318,000 in third. The UK provided the top holdover result as $4.2m in second place elevated the running total to $18.1m after three sessions.
Space Race drama First Man starring Ryan Gosling and Claire Foy stands at $54.2m internationally and $98.8m worldwide. Tiffany Haddish and Kevin Hart comedy Night School has reached $24.2m and $101.1m worldwide, and debuted in Russia on $200,000. Halloween stands at $93.8m, and $252.9m worldwide.
LIONSGATE INTERNATIONAL
UPDATED: Robin Hood starring Taron Egerton and Jamie Foxx earned $8.9m from 32 markets at the weekend as the action adventure launched day-and-date with North America. The UK led the way on $1.7 including previews to rank fourth, followed by the $1.4m number one debut in the Middle East.
Italy and Australia generated $961,000 at number two and $933,000 at number three, respectively. Most of the remaining major markets launch this week.
PARAMOUNT PICTURES INTERNATIONAL
Second World War horror film Overlord produced by J.J. Abrams brought in $1.7m from 49 markets and stands at $17.5m. It opened in France on $834,000 at number five, and arrived in Vietnam on $139,000 in third place.