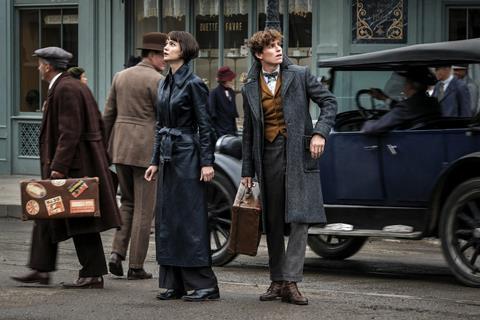 NOVEMBER 19 UPDATE: Warner Bros' Fantastic Beasts: The Crimes Of Grindelwald starring Eddie Redmayne was the clear champion at the North American charts over the weekend, yet there will be no hiding the fact that $62.2m was a disappointing debut.
Despite pockets of fans among critics, the fantasy received average reviews. The three-day debut in 4,163 theatres trailed the $74.4m opening weekend of Fantastic Beasts And Where To Find Them in late 2016 by 16%, rising to 20.2% when the numbers from two years ago are adjusted for inflation to $77.9m.
Grindelwald has time playing into Thanksgiving weekend and beyond to make up lost ground and the $191m international opening weekend will give Warner Bros executives reason to be cheerful as they attempt to profit after recouping the reported $200m production cost, which does not include marketing spend. The original finished on $234m in North America.
Jude Law, Zoe Kravitz, and Johnny Depp round out the key cast, and David Yates returned to direct the second in what will be a five-part series.
Paramount comedy Instant Family with Rose Byrne and Mark Wahlberg arrived in fourth place on $14.5m in 3,286 theatres, while Fox's heist thriller from Steve McQueen, Widows, which stars Viola Davis, Michelle Rodriguez, Elizabeth Debicki and Cynthia Erivo, debuted in fifth on $12.4m from 2,803.
Dr. Seuss' The Grinch from Universal and Illumination dropped 42.9% and one place to number two, adding $38.6m for $126.9m in the second session, while Bohemian Rhapsody in third fell 48.6% on $16m for a $128.2m running total in the third weekend.
Paramount's Overlord and Sony's The Girl In The Spider's Web both took heavy tumbles in their second weekend. The former fell 62.3% and five places to number eight, adding $3.9m for $17.8m. Claire Foy's outing as Lisbeth Salander dropped 68% and three slots to ninth on $2.5m for $13.3m.
Warner Bros' A Star Is Born is the senior citizen in a young top 10. It ranks seventh on $185.8m after seven weekends. Trafalgar Releasing opened Burn The Stage: The Movie in tenth place on $2.4m in 629 sites, rising to $3.6m over four days. The documentary follows South Korean boy band BTS AKA Bangtan Boys.
Universal launched its new awards hopeful friendship drama and surprise TIFF audience award winner Green Book starring Mahershala Ali and Viggo Mortensen at number 22 on $320,429 from 25 venues. CBS Films released its awards contender and Vincent van Gogh drama At Eternity's Gate starring Willem Dafoe at number 32 on a respectable $92,856 from four sites.
Box office for the top 12 generated $165.6m, up 6.5% on last weekend, and down 14.6% on the comparable session in 2017 when Warner Bros launched Justice League.
This week's wide releases are: Buena Vista's Ralph Breaks The Internet featuring John C. Reilly and Sarah Silverman as the lead voice cast; Creed 2 starring Michael B. Jordan, Tessa Thompson, Sylvester Stallone, and Dolph Lundgren through MGM; and Lionsgate-Summit's adventure Robin Hood with Taron Egerton and Jamie Foxx.
Confirmed top 10 North America Nov 16-18, 2018
Film (Dist) / Conf wkd gross / Conf total to date
1 (-) Fantastic Beasts: The Crimes Of Grindelwald (Warner Bros) Warner Bros Pictures International $62.2m –
2 (1) Dr. Seuss's The Grinch (Universal-Illumination) Universal Pictures International $38.6m $126.9m
3 (2) Bohemian Rhapsody (Fox) Fox International $16m $128.2m
4 (-) Instant Family (Paramount) Paramount Pictures International $14.5m –
5 (-) Widows (Fox) Fox International $12.4m –
6 (4) The Nutcracker And The Four Realms (Buena Vista) Walt Disney Studios Motion Pictures International $4.8m $43.9m
7 (5) A Star Is Born (Warner Bros) Warner Bros Pictures International $4.3m $185.8m
8 (3) Overlord (Paramount) Paramount Pictures International $3.8m $17.7m
9 (6) The Girl In The Spider's Web (Columbia Pictures) Sony Pictures Releasing International $2.5m $13.3m
10 (7) Nobody's Fool (Paramount) Paramount Pictures International $2.3m $28.9m