La La Land surges past $205m; XXX: Return Of Xander Cage hits $263m.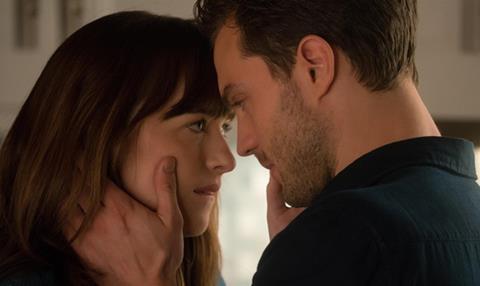 UNIVERSAL PICTURES INTERNATIONAL
Fifty Shades Darker held on to number one at the international and worldwide box office for the second week in a row. The erotic drama added $44.5m from 59 territories for $193.1m internationally. Combined with the North American haul of $91.4m, the film stands at $284.5m worldwide.
Jamie Dornan and Dakota Johnson held on to top spot in Germany, Australia, Italy, Spain, Brazil and nine other territories.
Germany, the top holdover, produced $6.1m for $21.2m to date, while the UK slipped to number two behind Lego Batman on $4.2m for a total of $21.1m.
France and Brazil followed on $4.3m for $16.1m and $3.5m for $14.5m, respectively. Italy stands at $12.9m, Russia $10.7m, Australia $10.6m, and Spain $9.6m. Japan is the final market on June 23.
Legendary and Universal's The Great Wall expanded into 21 markets. The Matt Damon fantasy epic grossed $18.7m from 48 territories for a total of $74.7m. China stands at $171m, elevating the international tally to $245.7m and worldwide to $267.2m.
The historical fantasy opened at number one in Russia on $4.9m and arrived in second place in Australia on $2.4m. The UK opened at number five on $2.1m, followed by a number two debut in Spain on $1.8m. International roll-out will continue over the next two months. The Great Wall has crossed $25m on Imax.
Illumination Entertainment's Sing grossed $19.1m in 54 territories over the weekend, raising the international total to $263.9m. The worldwide haul stands at $530.9m.
The animation opened at number two in China over the weekend with $11.9m. The UK held at number three in week four on $2.5m for $28.2m, while France added $3m for $17.6m and ranks fifth. There are two more territories to open: Russia on March 2 and Japan on March 17.
M. Night Shyamalan's horror thriller Split from Blumhouse Productions grossed $8.8m in 45 territories for $70.4m. Universal executives are pleased with the thriller's $2m number one debut in Mexico. Germany is the top holdover on $938,000 in its fourth week for a $9.2m running total. Australia added $748,000 for $8.6m, while the UK grossed $507,000 over the weekend to reach $13.1m.
LIONSGATE INTERNATIONAL
UPDATED: La La Land danced past the $200m milestone internationally this weekend, thanks to a further $32.3m from 73 markets. The international and worldwide totals stand at $205.9m and $339.5m, respectively.
The musical opened in China on Valentine's Day on $24.5m and ranks third.
UK remains the top market with $34.8m after six weeks, followed by China, then South Korea on $23.4m, Australia $13.8m and France rounding out the top five markets on $13.6m. The final markets are Japan, Denmark and Norway this week.
The musical added $635,000 in Spain via Universal for $12m after six weekends.
John Wick: Chapter 2 took another $15.8m from 62 markets in its second weekend, lifting the international total to $32.1m.
The Keanu Reeves action film debuted in three markets, led by the UK on a solid $2.8m, followed by Germany on $2.5m and Brazil on $993,000. Russia is the top grossing market on $4.6m after two weeks.
The major markets releasing this week are France, Belgium and South Korea on February 22, and Mexico on February 24.
PARAMOUNT PICTURES INTERNATIONAL
XXX: Return Of Xander Cage grossed $27.6m this weekend in 58 markets, bringing the international gross to $263.8m. The Vin Diesel starrer held the number one spot in China in its second week with $26.2m for $134.3m. Its global Imax haul stands at $18m and the action tentpole will open in Japan on February 24.
Horror sequel Rings grossed $5.2m in 48 markets, including four new openings. Argentina opened at number one with $785,000 for Paramount's biggest horror opening ever. Brazil stands at $6m, France at $3.2m, and Mexico $5.1m after its third weekend. The international total stands at $40.5m.
The next major releases are Australia on February 23 and Italy on March 16.
Second World War spy thriller Allied grossed $1.1m, including a $725,000 number four opening in Brazil, bringing the international total to $76.8m.
WARNER BROS PICTURES INTERNATIONAL
UPDATED: The LEGO Batman Movie added a confirmed $21.5m from 62 markets as the early haul climbed to $72.1m. The UK led the way on $5.6m for $21.7m, followed by Mexico on $1.7m for $5.1m.
Germany delivered $1.4m for $4m, while Brazil has generated $3.8m after two sessions, France $3.4m, Spain $2.6m Russia $3.5m, Italy $2.2m, Poland $1.9m, and Argentina $1.5m.
Ice Cube comedy Fist Fight arrived day-and-date with North America on $1.5m from 12 smaller markets, which included $622,000 in the UAE. Collateral Beauty stands at $53.6m.
SONY PICTURES RELEASING INTERNATIONAL
UPDATED: Resident Evil: The Final Chapter added $7m in 57 markets as the international tally shot up to $113.5m. Russia opened on $4.1m and China opens this week.
Following a strong reception at the Berlinale, T2 Trainspotting rolled out in 10 markets on $2.1m, including $496,000 in Germany, for $20.3m internationally. The next key markets to open are Australia, Italy and Spain this week, followed by France on March 1 and Russia on March 8.
WALT DISNEY STUDIOS MOTION PICTURES INTERNATIONAL
Disney's latest animated offering Moana added $4.2m from its 35 territories over the weekend, raising the international gross to $328.9m and worldwide to $572.3m. In its final European market release, the film took $300,000 in Finland in second place, ahead of Lego Batman.
The lead markets are France on $35m, China on $32.7m, the UK on $23.9m and Brazil on $22m. While there are no new openings this week, the film will open in Japan on March 10.
FOX INTERNATIONAL
UPDATED: Hidden Figures grossed $7.4m from 33 markets for $21.4m and opened top in Australia on $3.7m and arrived in the UK on $1.8m.
A Cure For Wellness debuted in 36 markets on $4.4m, led by South Korea on $920,200 and France on $862,300.
Miss Peregrine's Home For Peculiar Children stands at $207.9m and Fox International Productions' Jolly LLB 2 $18.3m following a $3.2m number one hold in India.