DECEMBER 28 UPDATE: A further confirmed $149.2m boosted Disney-Lucasfilms' Star Wars: The Force Awakens past the half-billion mark in a huge Christmas weekend session and destroyed the second-weekend record of $106.6m set by Jurassic World back in the summer.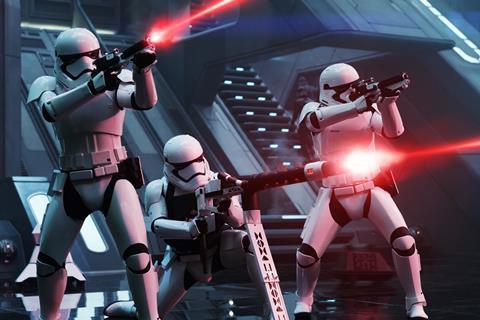 Perched menacingly on $540.1m by Sunday, the space opera added several new speed marks to its perfect record, crossing $400m in eight days, $450m in nine and $500m in ten.
The record second weekend included the biggest Christmas Day (Friday) gross on $49.3m.
The Force Awakens' Imax haul is on course to cross $70m inside 11 days in what will become another industry benchmark, overturning the 30-day record established by Avatar.
STAR WARS: THE FORCE AWAKENS
Biggest North American opening weekend and three-day gross $247.9m
Biggest Imax debut $30.1m
Biggest opening week $391.1m
Biggest Thursday preview $57m
Biggest Friday opening day and single day $119.1m
Biggest Sunday $60.5m
Biggest Monday $40.1m
Biggest Tuesday $37.3m
Biggest Christmas Day $49.3m
Biggest second weekend $149.2m
Fastest to cross $100m (one day)
Fastest to cross $150m (two days)
Fastest to cross $200m (three days)
Fastest to cross $250m (four days)
Fastest to cross $300m (five days)
Fastest to cross $350m (six days)
Fastest to cross $400m (eight days)
Fastest to cross $450m (nine days)
Fastest to cross $500m (ten days)
Fastest to cross $550m (11 days)
Meanwhile Paramount launched the Will Ferrell-Mark Wahlberg comedy Daddy's Home at number two on a respectable $38.7m from 3,271 theatres, while David O Russell's Jennifer Lawrence starrer Joy arrived in third place via Fox on $17m from 2,896.
The Will Smith drama Concussion opened at number seven on $10.7m through Sony on 2,841. The film reportedly cost $35m to produce and a modest result feels less adequate given the presence of Smith, although his box office powers have waned over the years.
Alcon Entertainment's action thriller remake Point Break with Edgar Ramirez landed at number eight on a disappointing $9.8m via Warner Bros.
The film will need good world-of-mouth to prosper although it is enjoying a strong run in Asia via Lionsgate International licensees and has amassed more than $38m in China.
The Weinstein Company launched Quentin Tarantino's Western The Hateful Eight featuring a starry ensemble led by Kurt Russell, Samuel Jackson, Jennifer Jason Leigh and Walter Goggins at number ten on $4.6m from 100 sites.
Paramount's financial crisis drama The Big Short starring Ryan Gosling, Steve Carell, Christian Bale and Brad Pitt climbed 13 places to number seven in its third weekend after expanding from eight to 1,585 venues. A $10.5m haul elevated the running total to a handy $16m.
The film is on a one-week nationwide 70mm roadshow and will expand digitally on December 31 and continue to play on 70mm in select venues.
New Line-MGM's Creed at number 11 has grossed $96.1m through Warner Bros after five weekends and will cross $100m within days.
Alejandro González Iñárritu's survival story The Revenant starring Leonardo DiCaprio scored a sensational limited debut, arriving at number 23 on $474,560 from four theatres for an $118,640 average.
Opened Charlotte Rampling and Tom Courtenay drama 45 Years opened at number 33 on $65,775 from three sites via Sundance Selects. China Lion opened Chinese genre-bender Mr. Six on $286,847 from 30.
Box office for the top 12 amounted to $281.2m and fell 8% against last weekend and climbed 33.3% against the same session in 2014 when The Hobbit 3 ruled for the second weekend.
The Hateful Eight expands wide this week and there are no new releases.
Confirmed top 10 North America December 25-27 2015
Film (Dist) / Conf wkd gross / Conf total to date
1 (1) Star Wars: The Force Awakens (Buena Vista) Walt Disney Studios Motion Pictures International $149.2m $540.1m
2 (-) Daddy's Home (Paramount) Paramount Pictures International $38.7m –
3 (-) Joy (Fox) Fox International $17m –
4 (3) Sisters (Universal) Universal Pictures International $14.2m $37.5m
5 (2) Alvin And The Chipmunks: The Road Chip (Fox) Fox International $13.1m $39.8m
6 (19) The Big Short (Paramount) Paramount Pictures International $10.5m $16m
7 (-) Concussion (Sony) Sony Pictures Releasing International $10.5m –
8 (-) Point Break (Warner Bros) Lionsgate International $9.8m –
9 (4) The Hunger Games: Mockingjay – Part 2 (Lionsgate) Lionsgate International $5.3m $264.5m
10 (5) The Hateful Eight (TWC) TWC International $4.6m –