UPDATED: Valerian races to $10.2m; Cars 3 will also take on local content after two-month absence of non-Chinese fare.
Local product has taken advantage of the summer blackout on non-Chinese fare and will have their hands full this weekend as two major international releases storm the territory.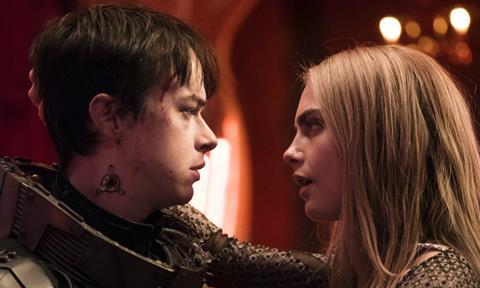 While it can be argued Wolf Warriors 2 would have demolished any competition regardless of its provenance, the $770m-plus action sequel that ranks among the all-time top 100 global hits has been slowing down and will need a late spurt to hold off its foreign rivals.
EuropaCorp's Valerian And The City Of A Thousand Planets has raced to an early $10.2m (and more than $100m internationally) and boasts the kind of fantasy spectacle Chinese audiences gobble up. China was the top market outside North America for Luc Besson's previous film Lucy, contributing $44.8m in 2014 to the film's overall $336.7m international tally.
Can Valerian build on $10.2m and produce a mighty opening week to usurp Wolf Warriors 2? The film's Chinese backers Fundamental Films certainly hope so and they need it to peform, having invested more than $50m in Besson's embattled space opera – and more than that in EuropaCorp itself.
The film stands at $103.5m internationally and $142.9m worldwide and Besson and his EuropaCorp cronies desperately require a boost after the film's dismal North American run through STX.
China also hosts Pixar's Cars 3 and Walt Disney Studios Motion Pictures International executives will be cheering on the animation as it revs up against Valerian and local rivals. Pirates Of The Caribbean 5 stands at $618.8m through the Disney pipeline.
Annabelle: Creation ruled the international box office last weekend on $42m and has reached $114.3m as it chases down 2014 predecessor Annabelle's $172.6m final haul. It opens through Warner Bros Pictures International in in Germany, where Annabelle grossed $4.6m three years ago.
Stablemate Wonder Woman will cross the $400m mark this weekend as it heads into Japan. The superhero adaptation has mustered $396.2m. Christopher Nolan's Dunkirk stands $234.1m, while Everything, Everything has reached $20.1m and opens in Australia.
Tom Cruise reunites with his Edge Of Tomorrow director Doug Liman on American Made, which launches in 22 territories including the UK, Australia, Taiwan, and Sweden. Cruise plays a drug-running pilot in Colombia in the 1980s.
Illumination Entertainment's Despicable Me 3 crossed $700m this week and stands at $702m. The animation arrives in Italy. Meanwhile, Charlize Theron action release Atomic Blonde on $13.3m touches down in Germany and a handful of smaller markets.
Sofia Coppola's The Beguiled lands in France following its Cannes world premiere berth at the start of summer and the gothic remake has grossed more than $6.1m. Female comedy Girls Trip stands at $11.2m.
Fox International's War For The Planet Of The Apes has grossed $208.8m. Captain Underpants: The First Epic Movie on $25.4m opens in eight Middle Eastern markets. Alicia Vikander drama Tulip Fever opens in Germany and Russia ahead of the North American launch next weekend through The Weinstein Company.
Bollywood action comedy A Gentleman – Sundar Susheel Risky from Fox STAR Studios starring Sidharth Malhotra and Jacqueline Fernandez opens in India and the UK.
Number one North American release The Hitman's Bodyguard open via Nu Image licensees in several territories this weekend. The action comedy starring Ryan Reynolds and Samuel Jackson arrives in France via Metropolitan, Spain through Corbi/WB, South Korea and Thailand through JoynContents, Brazil via California Filmes, and Sweden and Denmark via MisLabel, and India through PT Parkit.