Ridley Scott's space survival story is scheduled to touch down in approximately 50 territories this weekend, fresh from its strong debut at last month's Toronto International Film Festival.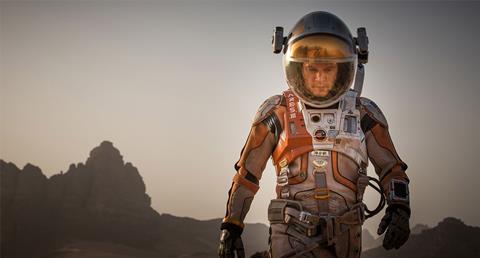 The UK, Australia, Mexico, Brazil, Argentina, Taiwan and Hong Kong are expected to deliver the biggest hits for The Martian.
The film premiered in Toronto last month and also stars Jessica Chastain, Chiwetel Ejiofor, Jeff Daniels, Kata Mara, Michael Pena, Kristen Wiig and Sean Bean,
Hitman: Agent 47 on $57.9m opens in Spain while Maze Runner: The Scorch Trials stands at $129.1m.
Mission: Impossible – Rogue Nation has grossed $482.3m through Paramount Pictures International while Terminator: Genisys has amassed $350.9m
Sicario arrives in Germany this weekend and by Monday had grossed more than $4.9m overall through Lionsgate International.
Pixar's Inside Out stands at $424.6m through Walt Disney Studios Motion Pictures International and ventures into Germany.
Marvel Studios' Ant-Man on $229.7m has no new openings this weekend.
Baltasar Kormakur's adventure film Everest stands at $86.1m via Universal Pictures International and is expected to surge past the $100m base camp this weekend.
Universal and Illumination Entertainment's Minions has amassed $804.2m, Straight Outta Compton $34.1m and The Visit $15.6m.
Sony Pictures Releasing International's Hotel Transylvania 2 has grossed $38.5m and sinks its teeth into a further nine markets this weekend, among them Hong Kong and South Africa.
The studio opens Robert Zemeckis' The Walk starring Joseph Gordon-Levitt in 24 territories day-and-date with North America.
The tightrope artist drama premiered at the New York Film Festival this week and arrives in mostly Eastern European and Middle Eastern territories including the UK and Poland.
The Intern stands at $19.5m via Warner Bros Pictures International and opens in the UK, Australia and Mexico this weekend.
Meanwhile Black Mass has grossed $1.7m and The Man From U.N.C.L.E. $57.1m.