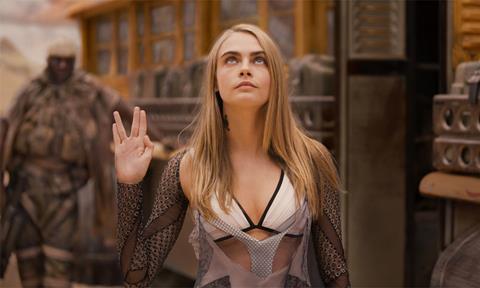 The international box office for French films recovered some of its élan in 2017 after a difficult 2016, although the absence of a big hit from Luc Besson's EuropaCorp meant admissions remained well below the 100m of recent years.
According to preliminary annual figures released by export body UniFrance on Friday evening (January 19) as part of its Rendez-vous with French Cinema in Paris programme, French films drew 80.5m spectators internationally in 2017 for a total box office of €468m ($572m).
The international box office also generated more admissions for French cinema than France, where local pictures sold 78.2m tickets in 2017. Unifrance said the 2017 international box office figure represented a 98% rise on 2016 figures, when French films drew 34m spectators worldwide.
Breaking the box office figure down, majority French productions accounted for 60.7m, or 76%, of these admissions. French-language productions generated 38m entries, accounting for 47% of the international box office.
UniFrance noted that French-language features had sold an annual average of 34m tickets internationally over the past five years and that the 2017 box office of 38m entries marked a 42% increase on 2016 when French films sold 26.8m tickets.
The number of French productions hitting international screens increased by 5% to 642 titles. A total of seven titles drew more than one million spectators against six in 2016.
Top titles
Besson's sci-fi tale Valerian And The City Of A Thousand Planets was France's top achieving title at the global box office in 2017, drawing some 30.6m spectators. The Valerian box office was six times that of the second best performing film, the Omar Sy-starring family drama Two Is A Family, which sold 4.8m tickets. But it is seen as disappointing alongside the performances of prior EuropaCorp hits Lucy and Taken 3, which drew some 54million and 43.6million spectators respectively.
The top ten for majority French productions also included EuropaCorp's Renegades and Miss Sloane, which drew 800,000 and 700,000 admissions each in 2017. Actor-producer star Dany Boon also had two of his trademark mainstream comedies in the top ten, R.A.I.D. Special Unit and Radin!, which generated 600,000 and 500,000 entries each.
The one art-house title in the top ten was Paul Verhoeven's steamy revenge thriller Elle starring Isabelle Huppert. Further down the chart, French arthouse titles making waves theatrically in multiple international territories included Raw, The Insult, The Young Karl Marx, Happy End, Dalida, Personal Shopper and Mr. Stein Goes Online.
Top Territories
For the second year running, Europe was the leading export region for French films. A total of 24.7m tickets were sold there, with Germany accounting for 4.9m of the admissions. After a disappointing 2016, Asia came in second with a total of 18.4m admissions generated mainly by Valerian.
With 13.4m admissions, China was the top individual country territory for French cinema after a challenging 2016 for French exports. Eastern and Central Europe came in third regionally with 12.8m admissions, again driven by the popularity of Valerian as well as Gaumont's feature-length animation Leap!, particularly in Russia.
The performance of Valerian also impacted the North America figures but in the opposite direction. The market fell to fourth position in the export ranks, with 10.9m entries, after Besson's sci-fi extravaganza failed to shine there, generating just 4.7m admissions. Latin America came in fifth with 10.5m admissions, led by Mexico which accounted for five million entries.
2018 predictions
Looking to 2018, Unifrance said it expected French cinema to continue the recovery of 2017. It highlighted the upcoming comedy releases of Dany Boon's La Ch'tite Famille and Ken Scott's French-produced The Extraordinary Voyage Of The Fakir as titles with global appeal. On the animation front, Louis Clichy and Alexandre Astier's 3D animated film Asterix – The Secret Of The Magic Potion is also generating buzz after the success of their previous collaboration Asterix – The Mansions Of The Gods.
The country also continues to count on EuropaCorp to pull in admissions with hopes pinned on Taxi 5 and the upcoming English-language thriller Anna starring Sasha Luss, Helen Mirren, Luke Evans and Cillian Murphy. On the arthouse front, UniFrance noted Jacques Audiard's The Sisters Brothers, Abdellatif Kechiche's Mektoub, My Love: Canto Uno and Xavier Legrand's Custody as films with international potential.
Rendez-vous announcement
UniFrance released the figures to a delegation of international press attending its annual Rendez-vous with French Cinema in Paris at a cocktail at the French Ministry of Culture on Friday evening.
At the same ceremony, Juliette Binoche was also feted with UniFrance's annual French Cinema Award, created four years ago to recognise a cinema professional who has helped raise the profile of French cinema around the world.
Oscar-winning Paolo Sorrentino was present to open the the eighth edition of its online French-language film festival MyFrenchFilmFestival as president of the jury alongside Julia Ducournau, Nabil Ayouch, Brillante Mendoza and Kim Chapiron.
Features competing this year include Guillaume Canet's midlife-crisis comedy Rock 'n Roll, late-developer comedy-drama Willy The 1st by twin brothers Ludovic and Zoran Boukherma, and Cannes Critics' Week title Ava.
Top 10 French films at the international box office
Title / international admissions in 2017 / (Sales and production companies)
Valerian And The City Of A Thousand Planets, 30.6m (EuropaCorp/EuropaCorp)
Two Is A Family, 4.8m (SND/Vendôme Production)
Overdrive, 1.9m (Kinology/Kinology, Overdrive Productions)
The Jungle Bunch, 1.2m (SND, TAT Productions)
Elle, 900,000 (SBS International/SBS International)
Renegades, 800,000 (EuropaCorp/EuropaCorp
Miss Sloane, 700,000 (EuropaCorp/EuropaCorp)
R.A.I.D. Special Unit, 600,000 (Pathé International/Pathé, Les Productions du Ch'Timi)
Christmas & Co, 600,000 (Gaumont, Légende)
Radin!, 500,000 (TF1 Studio, Jerico).