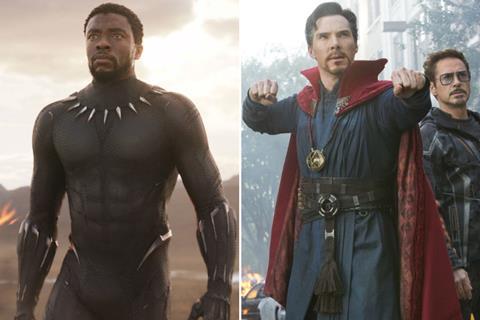 Top brass at The Walt Disney Studios said on Monday (10) it had crossed $7bn at the global box office in a calendar year, marking only the second time in industry history this has happened after the studio accomplished the feat in 2016.
Marvel Studios' Avengers: Infinity War, Black Panther, and Ant-Man And The Wasp, and Pixar's Incredibles 2 have been the key drivers behind the milestone.
The studio's estimated international box office gross through December 9 stood at $4.069bn, which ranks as Disney's second biggest year and the third biggest in industry history.
The North American haul for the year-to-date has reached $2.948bn, and with Ralph Breaks The Internet still going strong at the North American box office, and Mary Poppins Returns scheduled to open on December 19, the studio remains on track to overtake its own $3bn industry record established in 2016.
Four of the top eight worldwide releases of 2018 hail from The Walt Disney Studios, including the top two global and top three North American releases.
They are: Marvel Studios' Avengers: Infinity War on $2bn worldwide ($1.37bn from international, $678.8m from North America); Marvel Studios' Black Panther on $1.347bn worldwide ($647.1m international, $700m North America); Pixar's Incredibles 2 on $1.241bn worldwide ($632.9m international, $608.6m North America); and Marvel Studios' Ant-Man And The Wasp on $622.6m worldwide ($406m international, $216.6m North America).
Lucasfilm's Solo: A Star Wars Story has generated $393.2m worldwide this year, Ralph Breaks The Internet $258.9m and counting, and Christopher Robin $197.4m.
Star Wars: The Last Jedi earned $292.9m of its $1.33bn global haul in 2018, while Pixar's Coco earned $269.2m of its $807m global tally this year. The only other time Disney or any other studio crossed the $7bn global box office threshold was in 2016 when it registered $7.6bn.