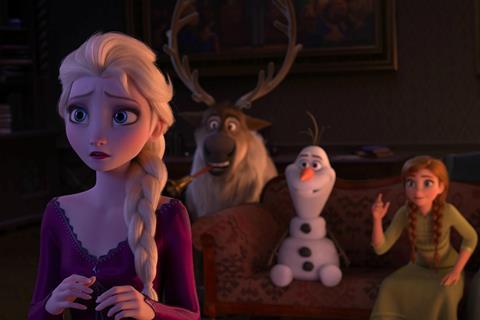 NOCVEMBER 25 UPDATE: The records fell like dominoes at the weekend as Frozen 2 ruled North American box office on an estimated $130.3m over three days to rank as the third highest animated debut of all time and propel aggregated box office for Disney releases past $3bn for the year to date.
The tentpole arrived in 4,440 theatres and established a new November launch record for an animation, and ranks as the highest debut by a Walt Disney Animation Studios release and by any animated release outside summer. As the third highest animated debut it ranks behind Disney stablemates Incredibles 2 on $182m and Finding Dory on $135m.
Frozen 2, which ruled global box office in a $350m launch, will play well in the coming week as Americans prepare for the annual Thanksgiving holiday period. When Frozen launched over Thanksgiving in 2013 it arrived in second place on $93.6m behind the $109.4m debut of The Hunger Games: Catching Fire. That was a powerhouse result for an unknown original property and Frozen went on to earn $400.7m in North America.
Idina Menzel, Kristen Bell, Josh Gad, Jonathan Groff and reprise there roles and Evan Rachel Wood joins the voice cast in the tale of the headstrong princess. Studio executives reported that North American audiences comprised 59% female and 41% male; adults 23%, families 70%, and teenagers 7%; 11 and under 31%, 12-16 10%, 17-24 12%, 25-34 19%, 35-49 18%, and 50-plus 9%.
Disney's combined releases have now crossed $3bn in a single year three times. The current running total – bearing in mind Star Wars: Episode IX – The Rise Of Skywalker opens in December – stands at $3.067bn and rises to $3.5bn including Fox films.
Fox's Ford v Ferrari ranked second on $15.7m for an early $57.7m running total, and Sony's awards hopeful A Beautiful Day In The Neighborhood from Marielle Heller and starring Tom Hanks as beloved, late children's TV host Fred Rogers opened in third place on $13.3m. Chadwick Boseman thriller 21 Bridges arrived in fourth place on $9.3m.
Sony's Charlie's Angels fell further in its second session, sliding 61.2% on $3.2m for an anaemic $14m running total. Focus Features reported an excellent result as it launched Todd Haynes' thriller Dark Waters starring Mark Ruffalo as a crusading lawyer in four sites on $102,606.
Lionsgate's murder mystery Knives Out from Rian Johnson earned $2m from weekend previews in 936 sites and launches this week.