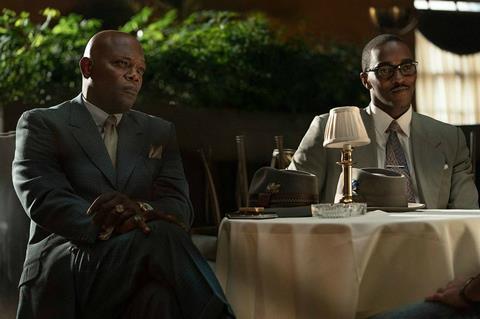 Apple is delaying the December 6 theatrical and January 2020 streaming launch of The Banker after allegations surfaced by a family member against the son of one of the two lead characters in the film.
The Banker had been scheduled to close AFI FEST before Apple pulled it at the eleventh hour in response to claims against Bernard Garrett Jr, a former co-producer on George Nolfi's film and son of the late Bernard Garrett Sr, portrayed in the film by Anthony Mackie.
The Banker stars Samuel L. Jackson and Mackie in the true story of two African American entrepreneurs in the 1960s who took on the Establishment and helped African Americans pursue the American Dream. The pair trained a working class white man to pose as the rich face of their burgeoning real estate and banking empire, while they posed as a janitor and chauffeur.
When news broke surrounding the cancellation of the AFI FEST screening, Apple issued the following statement: "We purchased The Banker earlier this year as we were moved by the film's entertaining and educational story about social change and financial literacy. Last week some concerns surrounding the film were brought to our attention. We, along with the filmmakers, need some time to look into these matters and determine the best next steps. In light of this, we are no longer premiering The Banker at AFI Fest."
Following the cancellation, the festival played Netflix's Marriage Story as its closing night film on Thursday (21).