Guardians Of The Galaxy surged past $400m as a robust second weekend hold in China generated $23.1m overall and propelled the international running total to $404.8m.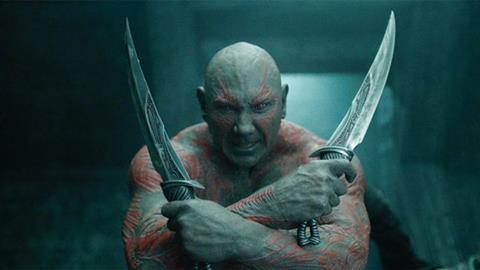 WALT DISNEY STUDIOS MOTION PICTURES INTERNATIONAL
Guardians Of The Galaxy surged past $400m as a robust second weekend hold in China generated $23.1m overall and propelled the international running total to $404.8m.
The Marvel Studios release dropped 28% in China and added $22,3m for $69m in China, where after a little over one week it already ranks as the top territory.
The UK is next on $47.3m, followed by Russia on $37.6m, Australia on $24.5m, Germany on $24.2m, France $21.8m, Mexico $19.7m, Brazil $17.7m and South Korea $10.8m.
Guardians has become the seventh film of 2014 to cross $700m worldwide and stands at $732.6m. It is the eighth international title of the year to pass $400m. It opens this week in the final market of Italy.
Alexander And The Terrible, Horrible, No Good, Very Bad Day added $1.3m for an early $6.6m and has grossed $2.7m in Mexico, $1.3m in Russia and $600,000 in Argentina. The family film arrives in the UK, Brazil and Hong Kong this week, Spain on November 7 and Australia on December 4.
UNIVERSAL PICTURES INTERNATIONAL
Dracula Untold brought in another solid session as $22.5m from 55 territories boosted the early score to $95.7m.
The film was number one in nine of the 14 new territories it opened this weekend including Bolivia, Colombia, Czech Republic, Ecuador, Philippines, Slovakia, Thailand, Trinidad and Vietnam. Thailand is the top debutant on $1.1m.
Russia delivered the biggest hold, retaining its top berth on $4.4m for $16.7m. In Peru, two sessions at number one have delivered $1.9m.
The Boxtrolls grossed $3.1m from 34 for $36.1m and opened in France on $630,000. The Laika animation added $800,000 in its sixth session in the UK for $12m.
Lucy has amassed $229.9m through Universal rising to $288.7m including EuropaCorp territories. The worldwide haul stands at $415m.
FOX INTERNATIONAL
Gone Girl delivered a further $20.2m from 57 markets to lift the mystery to $94.7m with releases still to come in South Korea, Italy and Japan.
In its third session, David Fincher's latest film brought in $3.9m in second place for $23.2m in the UK, $2.8m for $14.8m in a number one hold in Australia and $1.3m for $9.1m at number three in Russia.
The Maze Runner added $17.1m from 52 to stand at $161.5m and arrived in France on $4.9m for a number one debut. The YA adaptation added $2.4m in the UK for $7.1m after two weekends.
The Book Of Life brought in $8.6m from 19 markets day-and-date with North America, generating $3.8m in director Jorge Gutierrez and producer Guillermo del Toro's native Mexico for second place and $2m in Brazil for third. The animation opened top in Central America on $355,000 and reaches the UK and France this week.
Fox International Productions and FoxStar India's Bollywood smash Bang Bang added $1.2m in India to reach $32.6m and stands at $45.8m internationally to rank as the fifth biggest Bollywood film of all time and the top from the region in the year-to-date.
Let's Be Cops has grossed $33.2m while Dawn Of The Planet Of The Apes crossed $700m worldwide to rank as the fifth highest grossing film at the international box office in 2014, and the eighth highest grossing film of all time for Fox International. The international running total is $495m.
PARAMOUNT PICTURES INTERNATIONAL
Teenage Mutant Ninja Turtlespowered into Europe and added $20m from 33 territories in a welcome late boost that sets up the film to cross $200m and pushed the tally to $185.4m.
A $7.9m UK launch drove business, alongside a $4.1m French debut and a $3.8m number one result in Germany. Turtles also opened top in Spain on $1.5m. The action release arrives in China on October 31 and Japan on February 7, 2015.
Hercules stands at $154.5m and opens this week in China and Japan.
WARNER BROS PICTURES INTERNATIONAL
Annabelle delivered another impressive session as $19.2m from 51 markets brought the horror film to within striking range of $100m and stand at $92m.
In a string of second weekends, the film stayed top in Brazil on $3.1m for $7.9m, added $2.8m for $7m in France, $2.4m for $7.4m in the UK, $1m for $3m in Spain and $829,000 for $2.2m in Germany.
A number two debut in Sweden delivered $423,000. Brazil ranks as the top market thus far. Annabelle arrives in Mexico this week.
The Judge grossed $6.5m from 2,920 from 37 for an early $8.7m, fired up by a $1.5m number two launch in Russia and $725,000 and $550,000 debuts in Brazil and Taiwan, respectively.
CHINA UPDATE
Breakup Buddies grossed approximately $10m over the session to raise the comedy's running total to $164.3m.
SONY PICTURES RELEASING INTERNATIONAL
The Equalizer grossed $8m from 88 territories for $69.6m as it launched in Spain in third place in Spain on $1.2m and arrived in Argentina on $284,000 for a record Denzel Washington debut.
Germany led the holdovers on $1.6m for $4.7m. Italy has amassed $2.5m, the UK $10.2m, France $5.1m and the Netherlands $2.1m.
The Village Roadshow markets of Australia, New Zealand, and Singapore added $265,000.
Japan and Taiwan open this week.
Spanish local-language smash Torrente 5 fell to number two behind Teenage Mutant Ninja Turtles on $1.2m for $11m after three sessions.
STUDIOCANAL
In its weekend in the UK, '71 expanded from 123 to 174 locations to bring in $282,000 and boost the early running total to approximately $900,000.