Marvel Studios tentpole scores number one debuts in all but three of its 37 territories.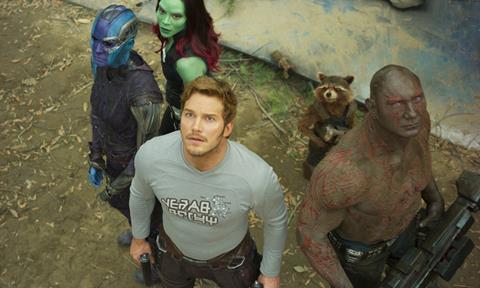 WALT DISNEY STUDIOS MOTION PICTURES INTERNATIONAL
Marvel Studios' Guardians Of The Galaxy Vol. 2 generated $101.2m in its international launch, placing it ahead of debuts by Guardians Of The Galaxy, Captain America: The Winter Soldier and Thor: The Dark World in the same territories at today's exchange rates.
The sequel directed by James Gunn was number one in all 37 of its territories except Portugal, Turkey and Vietnam, and opened ahead its 2014 predecessor in all markets except for Belgium. It is currently active in 58% of the international footprint.
In Europe, the film opened in the UK on $15.5m for 67% market share and the second biggest opening of the year behind Beauty And The Beast and the second-biggest opening day ever for a Marvel Studios release behind Captain America: Civil War.
In Latin America, Brazil delivered $6.9m for 50% market share, 75% ahead of Guardians Of The Galaxy.
The UK is the top market followed by Australia on $11.6m. Germany generated $8.3m, while France brought in $7.9m, Mexico $7.6m, Brazil $6.9m, Italy $4.1m and Indonesia $3.4m.
Spain produced $3.3m, the Philippines $3.2m, Thailand $2.7m, Taiwan $2.4m, and Malaysia and New Zealand on $2m apiece.
The superhero tentpole starring Chris Pratt, Zoe Saldana, Dave Bautista, Vin Diesel and Bradley Cooper will open in 16 additional markets including China, Russia, South Korea and Japan this week. Guardians Of The Galaxy Vol. 2 will debut in North America on May 5.
It earned $5m from 176 IMAX screens in 35 markets, a week prior to the North American and China launches. The UK led the way on $1.4m for an increase of 50% over the first Guardians film.
Like the UK, most markets saw a solid double-digit percentage increase in IMAX over the original, including a 139% rise in Turkey, 80% in Mexico and 73% in France.
Guardians Of The Galaxy Vol. 2 opens next weekend on 700 additional IMAX screens in 31 markets, including China and North America.
Beauty And The Beast added $17.2m for $662.4m internationally, bringing the global sum to $1.14bn. The live-action musical overtook Transformers: Age Of Extinction, Skyfall, The Lord Of The Rings: Return of the King, and Transformers: Dark of the Moon to rank as the 13th highest grossing film of all-time.
In North America, where it has grossed $480.1m, it passed Star Wars: Episode I to rank as the ninth highest grossing film.
Japan increased by 9% over its opening weekend to take the running total to $33.6m after 10 days. The UK is the number one market for the live-action tentpole on $87.4m, followed closely by China on $85.8m. Brazil has generated $40.8m, while South Korea stands at $37.2m, Australia $35.1m and Japan $33.6m.
Germany has amassed $33m, Mexico $29.9m, Italy $22.6m, Spain $22.4m, France $22.1m, Russia $14.6m, Philippines $13.5m and Argentina $12.4m.
UNIVERSAL PICTURES INTERNATIONAL
UPDATE: The Fate Of The Furious stormed past $1bn worldwide as a further 73.9m from 69 territories in the third international weekend propelled the running total to $873.5m.
The tentpole ranks as the tenth biggest international release in history and has stayed top in North America, where it has amassed $193.3m.
China added $22.1m for $363.5m (2.43bn RMB) as the action tentpole overtook the 2.42bn mark set by Furious 7 to rank as the biggest foreign film of all time in China and the second biggest of all time behind The Mermaid on 3.4bn RMB.
Click here for full report on The Fate Of The Furious.
Get Out added $1.5m in 30 territories for a total of $21.2m internationally and $193.7m globally
The horror arrived in Israel and Poland on $124,000 and $160,000, respectively. The Netherlands is the top holdover at number six in its second week on $271,000 for $805,000. The UK held at number seven in its seventh week on $224,000 for $12.2m. There are 28 territories to open including Australia, France and Germany this week.
Illumination and Universal Pictures' Sing added $725,000 in 10 territories for $357.8m internationally and $628.1m worldwide. Japan is the animated musical's highest grossing territory on $619,000 for $42.2m.
M. Night Shyamalan's Split grossed $115,000 in 18 territories for $136.9m. Combined with North America's $138.1m, the worldwide total stands at $275m. Japan will be the final territory to release on May 12.
The Zookeper's Wife grossed $35,000 in five territories for a Universal International total of $1.1m. Combined with $14.8M from North America, the film stands at $15.9m from Universal territories. The UK grossed $35,000 for $285,000.
ASIA UPDATE
Bona Film Group's Shock Wave starring Andy Lau and directed by Herman Yau debuted in China on $24.4m. Leste Chen's psychological thriller Battle Of Memories grossed $21.8m. Arka Mediaworks's fantasy Baahubali 2: The Conclusion grossed $3.7m in India, day-and-date with its superb $10.1m North American debut.
FOX INTERNATIONAL
UPDATE: DreamWorks Animations' The Boss Baby continues to rise in the box office after earning a further $17.9m in 72 markets for $250.5m internationally.
The family film delivered strong holds in several markets including a 51% increase over the opening weekend in Holland. Spain and Poland were each down only 16%, with the film in second place in both markets. The Boss Baby is now DreamWorks Animation's biggest title of all time in Hong Kong, beating Kung Fu Panda 2.
The UK is the top market on $1.5m for $29.6m, followed by Spain on $1.7m for $9.2m, France $1.6m for $20.5m, Italy $1m for $5m, and Poland $651,000 for $2.4m. The Boss Baby will debut in South Korea on May 3.
Logan added $174,000 from 13 active markets and stands at $383.2m, while Hidden Figures brought in a further $187,000 from 10 markets for $60m.
WARNER BROS PICTURES INTERNATIONAL
UPDATE: Going In Style grossed $3.2m in 46 markets, pushing the international total to $24.5m.
Australia dropped just 34% in week two, adding $631,000 for $2.1m and fourth place, while Mexico had a solid second weekend, generating $440,000 for $1.8m. Germany was another strong holdover, dropping 33% on $515,000 for $2.9m.
The top markets for the heist comedy are the UK on $3.4m, Russia on $1.5m, Holland $1.4m and Spain $1.1m. France and Italy will debut this week.
The Rosario Dawson and Katherine Heigl starrer Unforgettable stands at $3m.
SONY PICTURES RELEASING INTERNATIONAL
Smurfs: The Lost Village added $11.7m this weekend in 62 markets. The animated film featuring the voices of Demi Lovato and Rainn Wilson stands at $117.8m.
China earned $5.1m in its second week for a market total of $18.1m.
PARAMOUNT PICTURES INTERNATIONAL
The Scarlett Johansson-led sci-fi action film Ghost In The Shell grossed $1.1m in 40 markets to reach $124.9m.
IMAX
Arka Mediaworks's fantasy film Baahubali 2: The Conclusion smashed through global IMAX records after earning $2.3m from 66 IMAX screens for a per-screen average of $35,500.
The film directed by S.S. Rajamouli and starring Prabhas scored the biggest IMAX opening weekend ever in India, the biggest global IMAX opening ever for an Indian film, and the all-time biggest domestic IMAX opening for a foreign language film.