Bliss Media distributes the World War II drama directed by Mel Gibson, which has crossed $50m in China and earned a rare extension.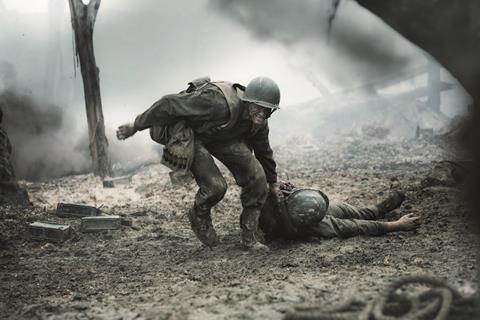 Authorities have allowed the film to remain in theatres for an additional 30 days – an unusual move for non-Chinese films.
Hacksaw Ridge – up for three Golden Globes on Sunday for best drama, dramatic actor for Andrew Garfield and director – has crossed the 350m RMB mark after four weeks in release.
It opened on $16m in 38,000 screens in China on December 8 and has gone on to surpass imported war films like Fury on $17.1m, War Horse on $16.95m, and Saving Private Ryan on $12.5m.
Sources close to Bliss Media attribute the score to robust marketing and distribution efforts customised to different cities. They added that strong word of mouth also drove ticket sales.
Bliss Media is expanding its international activities. It owns a stake in IMR International and recently came on board to finance Deniz Gamze Ergüven's Mustang follow-up Kings, the Halle Berry and Daniel Craig starrer that it will distribute in China.
It also holds Chinese rights to Jackie, on which it served as executive producer, and S.M.A.R.T. Chase, which stars Orlando Bloom and just wrapped production in Shanghai.