NOVEMBER 23 UPDATE: Lionsgate's The Hunger Games: Mockingjay – Part 2 rounded out the YA franchise to ensure all four in the series opened on more than $100m in North America.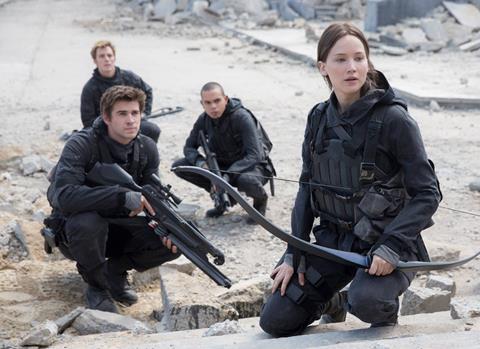 The $102.7m debut was actually the lowest in the series but Lionsgate chiefs will not be unduly perturbed heading in the long Thanksgiving weekend and given that the film opened on $247m worldwide.
The franchise has grossed $2.6bn worldwide to date and stars Jennifer Lawrence, Josh Hutcherson, Liam Hemsworth and Donald Sutherland.
Mockingjay – Part 2 grossed $8.5m on 384 global Imax screens.
Spectre grossed a further $15m for $154.1m after three weekends as the worldwide Imax total climbed by $4.3m to $45.3m.
Sony comedy The Night Before starring Seth Rogen, Joseph Gordon-Levitt and Anthony Mackie debuted at number four on $9.9m.
STX Entertainment opened mystery remake The Secret In Their Eyes starring Julia Roberts, Chiwetel Ejiofor and Nicole Kidman in fifth place on $6.7m.
Spotlight, regarded at this stage of the season as the frontrunner for the best picture Oscar, broke into the top 10 in its third weekend after Open Road expanded the theatre count by 537 to 598.
The true story of the Boston Globe investigation into the Catholic Church abuse scandal added $3.5m for $5.8m and climbed from number 12 to number eight.
There was a good surge from Brooklyn, too. Fox Searchlight expanded the Saoirse Ronan romance from 88 to 111 sites in the third weekend as $1.2m resulted in $2.2m and a nine-place leap to number 12.
The Weinstein Company opened its awards contedner Carol starring Cate Blanchett and Rooney Mara in four venues for $253,510. Universal opened Legend, the Kray Twins drama starring Tom Hardy as both Ronnie and Reggie Kray, on $86,834 from four sites.
Overall box office for the top 12 amounted to $166.3m and climbed nearly 73% on last weekend. It fell 10.9% against the comparable $186.7m session in 2014, when The Hunger Games: Mockingjay – Part 1 opened on $121.9m.
This week's wide releases are Creed starring Michael B Jordan and Sylvester Stallone via Warner Bros; Pixar's The Good Dinosaur; and the Fox adventure Victor Frankenstin with Daniel Radcliffe and James McAvoy.
Confirmed top 10 North America November 20-22, 2015
Film (Dist) / Conf wkd gross / Conf total to date

1 (-) The Hunger Games: Mockingjay – Part 2 (Lionsgate) Lionsgate International $102.7m –
2 (1) Spectre (MGM-Sony) Sony Pictures Releasing International/MGM $15m $154.1m
3 (2) The Peanuts Movie (Fox) Fox International $13.2m $99.3m
4 (-) The Night Before (Sony) Sony Pictures Releasing International $9.9m –
5 (-) The Secret In Their Eyes (STX Entertainment) IM Global $6.7m –
6 (3) Love The Coopers (CBS Films) Lionsgate International $4.1m $15.1m
7 (4) The Martian (Fox) Fox International $3.8m $213.1m
8 (12) Spotlight (Open Road) eOne Features $3.5m $5.8m
9 (5) The 33 (Warner Bros) Alcon Entertainment $2.3m $10m
10 (7) Bridge Of Spies (DreamWorks-Buena Vista) Fox International $2m $65.2m