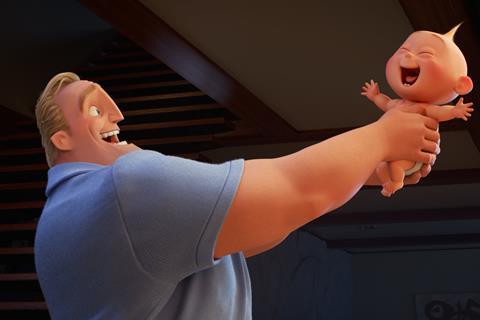 JULY 2 UPDATE: Pixar's Incredibles 2 positioned itself to become the second highest animation of all time on Monday (July 2) as Universal's Jurassic World: Fallen Kingdom held firm at the top in North America on a confirmed $61.1m, and Fox Star's Bollywood biopic Sanju burst into the top 10.
Columbia Pictures opened the drug cartel thriller Sicario: Day Of The Soldado starring Benicio del Toro and Josh Brolin at number three on $19m in 3,055 theatres, and Lionsgate released the comedy Uncle Drew with Shaquille O'Neal and Tiffany Haddish at number four on $15.2m in 2,742.
At a time when several documentaries are shining at the box office, NEON scored a terrific number 25 debut for Three Identical Strangers. Tim Wardle's film about strangers who discover they are identical triplets was one of the most admired documentaries to come out of Sundance this year and debuted on $171,503 in five sites for a $34,301 average.
At the end of the week when North American box office reached $6bn in record time to keep 2018 on course to become a record-breaker, it emerged that box office posted the first non-holiday back-to-back $400m weeks.
The period spanning June 15-29 generated $402.8m and $407.6m weeks, respectively. There have only been 11 $400m weeks, and the year-to-date has delivered four of them. Consecutive $400m weeks have only occurred twice before: during the Christmas holidays in 2015 and 2017 around the openings of Star Wars: The Force Awakens and Star Wars: The Last Jedi.
Returning to the top of the table, Jurassic World: Fallen Kingdom added $61.1m for $265.9m despite close to a 69% slide in the second weekend and has reached $935.1m worldwide after four weeks in release.
Pixar's Incredibles 2 grossed a further $46.4m and climbed to $440.6m in its third weekend. Playing into the school holidays and July Fourth week, it will overtake Shrek 3 ($441m) on Monday, and is expected to overtake Finding Dory on $486.3m by the end of next weekend to become the biggest animation of all time at the North American box office.
Fox Star's Bollywood release Sanju, a biopic about the controversial star Sanjay Dutt, arrived at number eight on $2.7m in 356 sites and scored Fox Star's second highest debut of all time in India over the weekend.
The documentary Won't You Be My Neighbor? held firm at number 10 following a 306 theatre count expansion to 654 through Focus Features, and adding $2.4m for an excellent $7.6m in its fourth session. Magnolia Pictures' Ruth Bader Ginsburg documentary RBG at number 17 has amassed $11.6m after nine weekends.
Box office for the top 12 grossed $171m, dropping 37% against last weekend and gaining 6.4% on the comparable session in 2017.
This week's wide release is Marvel Studios' Ant-Man And The Wasp starring Paul Rudd, Evangeline Lilly, Michael Peña, Michael Douglas, Michelle Pfeiffer, and Laurence Fishburne.
Confirmed top 10 North America June 29-July 1, 2018
Film (Dist) / Conf wkd gross /Conf total to date
1 (1) Jurassic World: Fallen Kingdom (Universal) Universal Pictures International $61.1m $265.9m
2 (2) Incredibles 2 (Buena Vista) Walt Disney Studios Motion Pictures International $46.4m $440.6m
3 (-) Sicario: Day Of The Soldado (Columbia Pictures) Lionsgate International /Sony Pictures Releasing International $19m –
4 (-) Uncle Drew (Lionsgate-Summit) Lionsgate International $15.2m –
5 (3) Ocean's 8 (Warner Bros) Warner Bros Pictures International $8m $114.7m
6 (4) Tag (Warner Bros) Warner Bros Pictures International $5.6m $40.9m
7 (5) Deadpool 2 (Fox) Fox International $3.5m $310.3m
8 (-) Sanju (Fox) Fox International $2.7m –
9 (6) Solo: A Star Wars Story (Buena Vista) Walt Disney Studios Motion Pictures International $2.3m $207.3m
10 (10) Won't You Be My Neighbor? (Focus Features) Universal Pictures International $2.3m $7.5m