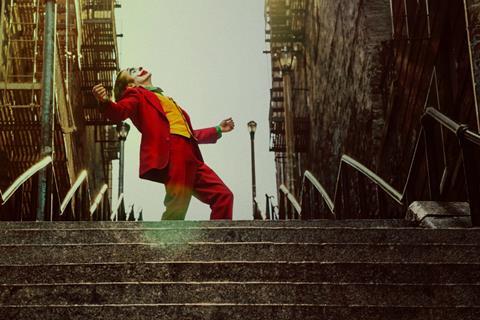 OCTOBER 14 UPDATE: The momentum rests with Joker as the Warner Bros tentpole demolished the competition in its second weekend, holding on to its global, international and North American box office crowns with ease as an estimated $178.7m propelled it past the half-billion global mark.
Meanwhile Ang Lee scored career-high debuts in 25 markets as Paramount's sci-fi thriller Gemini Man generated an estimated $31.1m in its first wide international session. Abomimable and Downton Abbey crossed $100m and $150m, respectively, through Universal's network.
WARNER BROS PICTURES INTERNATIONAL
UPDATED: Joker remains on devastating form at the international box office and grossed $125.3m from 79 markets following a 29% drop to push the running total to a confirmed $354.7m after 12 days, and the global tally to $548.3m.
It ranks as the number one Hollywood release in 73, and once again dominates Europe, where it has overtaken the lifetime totals of Logan, Justice League and Wonder Woman; Latin America; and Asia, where it has surpassed the lifetime tallies of Logan, The Dark Knight, and It: Chapter Two.
The supervillain origins story launched at number one in France on $10.6m (€9.6m) for 66% share of the top five films and delivered the biggest opening for a Warner Bros film in 2019 and the second biggest opening for a DC film behind The Dark Knight Rises. It arrived in Germany on $9.8m (€8.9m) for 73% share in the biggest debut for the studio this year.
The UK led holdovers, producing $12m (£9.8m) following a 22% drop for $36.9m (£30m) and 65% market share. Mexico generated $8.3m (Ps 162.5m) after 37% drop for $28.6m (Ps. 562.9m) and 67% share.
Elsewhere, Joker added $6.6m (R$ 26.8m) for $17.7m (R$ 73.2m) in Brazil, South Korea $6.5m (Won 7.7bn) for $28m (Won 33.5bn), Russia $6.5m (Rbl. 420m) for $20.4m (Rbl. 1.3bn), Italy $6.8m (€6.2m) for $17.3m (€15.7m), Australia $5m (A$7.4m) for $14.9m (A$22m), Spain $4.9m (€4.5m) for $13.2m (€12m), Japan $3.5m (¥371.4m) for $15.4m (¥1.7bn).
It: Chapter Two grossed $2.2m from 75 markets and stands at $238.8m, and $445.9m worldwide. The top markets are the UK on $23m, Mexico on $21.4m, Germany on $20.1m, Russia on $17.3m, and France on $11.8m. Japan will be the final key market to open on November 1.
CHINA UPDATE
The Captain directed by Andrew Lau grossed $33.4m as the running total climbed to $340.9m, while anthology My People, My Country earned $23m for $355.6m. Shanghai Film Group's action drama The Climbers starring Wu Jing and Jackie Chan added $11m for $136.3m.
PARAMOUNT PICTURES INTERNATIONAL
Ang Lee's action thriller Gemini Man starring Will Smith and Will Smith grossed $31.1m from 58 markets, of which 53 were new. The firs wide international session means the film stands at an early $39m from 85% of the international footprint, and $51.6m worldwide including the $20.5m number three North American debut.
3D+ box office accounted for 26% of the total weekend box office, and the session resulted in career-high launches for Lee in 25 markets. Mexico led the way on $2.7m at number two alongside Russia on $2.7m at number three, followed by South Korea on $2.2m at number three, and the UK on $2.2m at number three.
Gemini Man earned $1.3m in a number two debut in Indonesia, $1.2m at number three in Australia, $1.2m at number four in Spain, $1.1m at number two in Brazil, $1.1m at number two in both Italy and the UAE (the Middle East produced $3.1m as a region), and $1m in Colombia at number two.
France was the top holdover on $1.6m for $5.1m after two sessions, while Germany delivered $1.1m for $4.5m. The film arrives in Japan and Taiwan on October 25.
Family adventure Dora And The Lost City Of Gold stands at $53m and opens in its final market Brazil on November 14.
UNIVERSAL PICTURES INTERNATIONAL
UPDATED: Abominable from DreamWorks Animation and Pearl Studios crossed $100m worldwide, adding $15.1m from 52 territories for $47.4m, and $22.2m for $109.1m worldwide. It opened in second place in the UK on $2.7m, and second in Spain on $1.6m. Russia generated $2.9m for $7.8m after two weekends, and Australia $774,000 for $5.6m after four. Mexico, Brazil and Germany have delivered $5.2m, $2.9m, and $2.6m after three weekends each.
Downton Abbey stands at $70.2m following a $4.2m weekend, and has climbed to $152.9m worldwide. The period drama added $1.2m in its fifth UK session for $30.4m. Comedy Good Boys stands at $26.7m internationally and $109.4m worldwide, and Danny Boyle's Yesterday has reached $72.6m internationally and $145.9m globally.
SONY PICTURES RELEASING INTERNATIONAL
UPDATED: Once Upon A Time… In Hollywood has reached $224.2m internationally and $364m worldwide with China to come on October 25. The Angry Birds Movie 2 grossed $2.9m from 45 markets for $94.4m and opens in France this week.
STX INTERNATIONAL
Jennifer Lopez and Constance Wu in the drama Hustlers coaxed a further $3.9m from international markets to reach $23.6m, and the film has earned $121.6m at the worldwide box office. It opened in second place in Australia on $2.2m, and stands at $8.5m in the UK.
WALT DISNEY STUDIOS MOTION PICTURES INTERNATIONAL
Fox's sci-fi Ad Astra starring Brad Pitt added $2.9m for a $73.3m international running total, and stands at $120.3m. The lead market is France, where director James Gray is revered, on $7.9m, followed by the UK on $7.5m, Japan on $7.4m, Russia on $5.8m, and Spain on $5.3m.
MILLENNIUM MEDIA
Rambo: Last Blood grossed $1.8m for a $39m international running total.