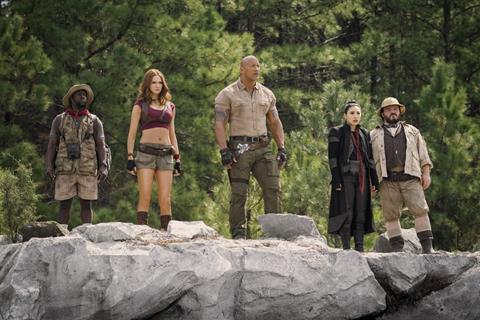 Disney's Frozen 2 will become the studio's sixth film in 2019 to cross $1bn worldwide this weekend, although it may not hold on to its international box office crown as Sony's Jumanji: The Next Level bulks up with a handful of debuts in major markets.
The adventure sequel starring Dwayne Johnson, Kevin Hart, Karen Gillan, Jack Black and Awkwafina has mustered $66m following its first wave last weekend. On that occasion it took an impressive $52.8m from a cluster of markets in which France was the sole established major, although Malaysia, Indonesia and Taiwan played a big part.
All this bodes well for a second session that brings debuts day-and-date with North America in the UK, South Korea, Russia, Japan, Germany and Spain.
The comps will give heart to Sony Pictures Releasing International executives. 2017's Jumanji: Welcome To The Jungle arrived in the UK on $10.9m en route to a muscular $51.9m, while South Korea generated $5.2m in opening weekend.
The UK wasn't the only market to impress. Russia delivered $5m, Japan $3.2m, Germany $2.3m, and Spain $1.5m. Opening weekend results from Mexico were unavailable at time of writing, although the film grossed $19.4m by the end of its run. Overall Jumanji: Welcome To The Jungle finished on $557.6m internationally and $962.1m worldwide.
The story with Charlie's Angels is not so encouraging. The action adventure reboot has crawled to $38.9m and has to wait until December 25 before it opens in France, followed by Mexico on January 1, and Germany on January 2.
Whether or not Frozen 2 continues to reign supreme at the international and global box office will not detract from its magnificent form. The animation sequel has earned $606.1m through Walt Disney Studios Motion Pictures International and stands at $951.7m worldwide as it prepares to surge past the milestone this weekend.
Fox's drama Ford v Ferrari starring Golden Globe and SAG nominee Christian Bale alongside Matt Damon has earned $81m so far.
Universal Pictures International launches Blumhouse's feminist slasher reboot Black Christmas starring Imogen Poots in 37 markets day-and-date with North America in the UK, Australia, Germany, and Spain. The film should deliver solid results given the appealing nature of horror as evidenced by recent performances of the Conjuring, It and Annabelle franchises, and Universal/Blumhouse's very own Purge series as well as M Night Shyamalan's Glass and Split.
Last Christmas has grossed $56.8m, The Addams Family $74.4m from Universal markets, and Downton Abbey $89.4m.
Latest figures from Warner Bros Pictures International put Joker on $725.2m ($1.057bn worldwide), Doctor Sleep on $39.1m, The Good Liar on $10m, and Motherless Brooklyn on $4.9m as it heads into Germany.