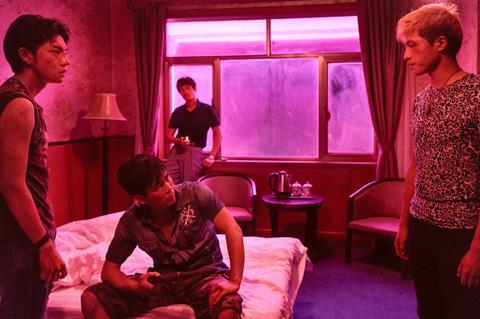 China's box office has thrown up a trio of surprises this year, starting with Nadine Labaki's Capernaum, which grossed $54m (RMB374m) in May, and followed by a 4K restoration of a 21-year-old Giuseppe Tornatore film, The Legend Of 1900, which grossed $20m (RMB143m) in November.
Among local arthouse releases, Chinese filmmaker Diao Yinan's Cannes competition title, The Wild Goose Lake, enjoyed a strong opening last week, grossing $19.4m (RMB136.2m) on its opening weekend (Dec 6-9). All three films appeared to benefit from well-orchestrated online marketing – Capernaum tapping into the resources of tech giants Alibaba and Bytedance, and The Wild Goose Lake teaming up with Li Jiaqi, one of China's most famous live streamers. Tornatore also has nostalgia working in his favour – his 1988 Oscar winner Cinema Paradiso is much loved by Chinese audiences, who appear to be embracing classics they've never had a chance to see before on the big screen, especially when they've had a state-of-the art restoration.
However, a quick glance at the rest of China's box office figures for the year to date reveals that it hasn't yet become the arthouse paradise it promises to be. Outside of Tornatore's English-language classic, the highest-grossing European films so far this year are Spanish mystery drama Mirage, with $15.8m (RMB110.6m), and Dutch comedy horror Prey, which took $6.3m (RMB44.5m). Not bad results but neither film would be described as arthouse titles in their home countries.
Apart from Diao's film, the highest-grossing local arthouse releases this year are two Berlin titles – Lou Ye's The Shadow Play with $9.2m (RMB64.7m) and Wang Xiaoshuai's So Long, My Son with $6.4m (RMB45m). Again not bad, but other Chinese arthouse fare, including critically-acclaimed titles such as Teng Congcong's Send Me To The Clouds, Pema Tseden's Jinpa and Bai Xue's The Crossing, have only taken around $1.5m-$4m. Similarly many European films have been released and struggled to scrape past a few million dollars.
"One of the problems we face is that the costs of releasing small-budget or big-budget movies are more or less the same," says Chinese filmmaker Jia Zhangke, who also runs Pingyao International Film Festival (PYIFF). "For Chinese arthouse titles, the P&A costs can often be bigger than the film's budget."
Local distributors say P&A costs for specialist films can run from $500,000 to $3m and there are several other structural issues. While the National Alliance of Arthouse Cinemas (NAAC) has created a circuit of 3,300 theatres, which pledge to reserve screens for arthouse films, they are mostly the small screens in multiplexes, as China only has a handful of dedicated arthouse cinemas. While it's better than nothing, distributors around the world understand how difficult it is to nurture arthouse titles in a multiplex.
Then there are the quota restrictions for foreign films and the censorship issues that affect both local and foreign filmmakers. NAAC works with a special 'arthouse' quota outside China's usual revenue-sharing and flat-fee quotas, but competition for those slots is still quite fierce. Periodically, China's VoD platforms provide exposure and revenue for specialist content, but due to challenging market conditions, the streamers have hugely reduced their acquisition budgets over the past year.
But there are signs that the audience is ready for different kinds of content and there have been several initiatives launched to explore that growing demand. Established by the China Film Archive (CFA) and several exhibitors in 2016, NAAC has so far released 87 local and foreign films, including classics. Among these, the biggest successes have been Bohemian Rhapsody with $14.1m (rmb99m) — although this demonstrates how wide the definition of arthouse is in China — and Three Billboards Outside Ebbing, Missouri with $9.3m (rmb65m).
In 2018, five Chinese companies, including Edko Films, Perfect Village Entertainment and Huaxia Film Distribution, joined forces in another alliance, the A.R.T. Project, to finance and distribute Chinese arthouse films. Releases so far include festival titles such as Walking Past The Future, The Poet and Send Me To The Clouds, and the initiative is gearing up to release Sun Aoqian's Over The Sea, which recently premiered at Busan International Film Festival.
Then there are Chinese film festivals that against the odds are attempting to develop an ecosystem for arthouse content to flourish. PYIFF provides a platform for both international and Chinese arthouse films, while First International Film Festival, Xining, is more focused on screening films from young Chinese filmmakers. Both festivals run project markets and work-in-progress labs for Chinese projects.
"What we're trying to do is create visibility for a world that doesn't necessarily correspond to what is normally distributed in China," explains PYIFF artistic director Marco Müller. "The only way to convince distributors that there's a market for these films is to show them how our very sensible and yet passionate audience participates in their screenings."
Fighting for scraps
After years of being dominated by Hollywood tentpoles and mainstream local films, the China market witnessed a sea change in 2017 when Spanish thriller The Invisible Guest grossed $24.6m (rmb172.5m) and several Indian films became hits. Among local titles, Zhang Yang's Paths Of The Soul, chronicling a Buddhist pilgrimage, grossed $14.2m (rmb100m) in June 2017, and was followed by documentary Twenty Two, which took $24.3m (rmb170.5m) later that summer.
"Chinese press described Paths Of The Soul as a milestone. It was the first local film that opened up the mind of the cinemas," says Maria A Ruggieri, a Beijing-based festival programme consultant who also works with sales company Asian Shadows, which reps the film. "It showed that the audience is becoming more open-minded, so that is pushing the cinemas to programme different types of films."
The following year, NAAC released Three Billboards Outside Ebbing, Missouri and Road Pictures scored a hit with Japanese Cannes Palme d'Or winner Shoplifters. Among local non-mainstream titles, there was one notable breakout — Rao Xiaozhi's black comedy A Cool Fish, which grossed $113m (rmb795m) — and a huge marketing misfire in Bi Gan's Long Day's Journey Into Night, an arthouse film that was sold as a romantic drama, opening big but crashing after its first weekend.
Everyone else is just fighting over the scraps. NAAC released ROMA this May, following its Oscar success, but it only grossed $712,000 (rmb5m). Exhibitors criticise the alliance for not providing a consistent stream of product or spending enough on P&A, but as it's headed by a state-owned company with experience in curation, not distribution, it was never going to be a dynamic force in cutting-edge marketing. NAAC is now joining forces with other distributors on some releases and trying to figure out effective releasing patterns.
One method NAAC has experimented with, which failed and revealed the structural problems in Chinese distribution, is platform releasing. As Chinese cinemas are organised into government-sanctioned circuits, it is logistically difficult to pick off individual theatres to work with on a release, and quota slots are usually only given to films with the potential to gross past a certain benchmark.
"We just don't have that limited releasing model like in the US. The pressure is to either release big or not at all," says Meng Xie, CEO of Beijing-based sales company and film financier Rediance. "We also don't have many committed cinema owners for arthouse cinema. It may be challenging in the US, but they still have more of an ecosystem for arthouse cinema than we have here."
When an arthouse film does release big, and then grosses big like Capernaum, it has the potential to reach stratospheric heights due to the sheer size of the market and the audience. But creating the conditions in which healthy box office can be counted on, rather than be an exceptional event, is as challenging in China as anywhere else in the world. The only way the country will develop a thriving arthouse market is through a lot of hard work, experimentation and careful cultivation.